New Microsoft Teams Includes Meet App for Streamlined Meeting Experience
As we're all aware, the new Microsoft Teams continues to evolve and improve steadily. Now the new Microsoft Teams is all set to redefine your meeting experience with its latest integration- Meet App across Teams Desktop and Web. 📢 It's time to say goodbye to the chaos of scattered Teams meeting content and information and embrace an organized approach. This new addition will serve as the ultimate destination for all your Microsoft Teams meeting needs, from preparation to follow-up. With this new Meet app, users can effortlessly find chats, agendas, Collaborative meeting notes, and Intelligent Meeting Recap, all together in one dedicated space. The rollout of this feature will begin in mid-October 2023 and expect to complete by mid-November 2023 (MC660610).
Let's get started! 
How to Access Meet App in Microsoft Teams?
Follow the steps below to easily access and use the new Meet app in Microsoft Teams. Once you activate the Meet app, you can use it as a refreshing way to join a meeting in Microsoft Teams.
The Meet app is

pre-installed

in the new Microsoft Teams interface.

 

To access the Meet app, users need to navigate to the

left rail app overflow menu

denoted by three dots (…).

 

Click on the "

Get more apps

" option or you can type 'Meet' to find the app.

 

Select the

Meet app

to activate it and start using its features.
Note – You can also pin the Meet app just like other Teams apps.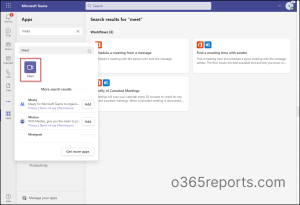 What's Inside the Microsoft Teams Meet App?
With the Meet App in Microsoft Teams, you can enhance your meeting efficiency like never before. When you open the Meet app, you'll see two main sections: "Up next" and "Recent".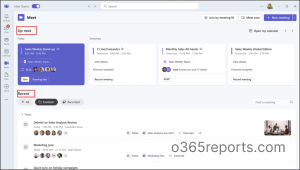 Prepare for Upcoming Teams Meetings with the 'Up Next' Section 
 The "Up next" section in the Meet app is all about your upcoming meetings.  
It shows you the meetings you have scheduled, along with helpful information and insights, to ensure your meetings are effective. For example, it'll give you tips and related content to prepare for each meeting.

 

It uses AI to suggest relevant content that might be useful for your discussions.

 

You can also see a list of people invited to the meeting and receive alerts if there are any issues, like not enough people confirming their attendance (no quorum) or scheduling conflicts.

 

The app even offers one-click solutions to fix problems, like No RSVP, request recording, or sending a quick note if you are running late.

 
Follow Up on Your Past Teams Meetings with the 'Recent' Section  
The "Recent" section is where you can find a Microsoft Teams meeting summary of your past meetings from the last 30 days, i.e., it's like an archive of your meeting history.

 

For each past meeting, you can see

who attended the meeting

, and if any Microsoft Teams meeting notes, files, recordings, locations, or transcripts were shared during the meeting.

 

The Meet app helps you organize past meetings with labels, quick filters, and a search box, So, you can easily find what you're looking for.

 

If you want to follow up on a previous meeting, you can instantly jump into the meeting chat or navigate to a summarized "view recap" button for quick meeting highlights.

 
Additional Benefits for Teams Premium Users in Meet App
 As known earlier, enhanced AI-powered Microsoft Teams meeting insights is one of the major parts of Teams Premium features. With the Microsoft Teams Meet app, Teams Premium users can access valuable meeting information such as, 
Missed meetings.

 

'Mentions' of you.

 

'Suggested tasks' related to the meetings.

 
Note – Users without a Teams Premium license can access all other features in the Meet app except the above-mentioned features.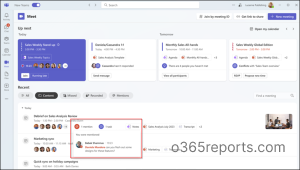 Check out the Microsoft Teams Premium licensing plan, if you find the Microsoft Teams Premium features more useful.
I hope this blog helped you understand the integration of the Meet app in the new Microsoft Teams. Feel free to reach us through the comment section if you have any queries!