Microsoft Teams Premium Features for Powerful Collaboration
Microsoft Teams Premium – You get everything you need! 
Microsoft Teams Premium is an additional license for Teams designed to elevate the collaboration experience for organizations using Microsoft 365 subscriptions. It is made generally available to all tenants starting from February 2023. With Microsoft Teams Premium, your team will benefit from capabilities such as advanced meeting settings, enhanced security and compliance, expanded app integrations, and more. Teams Premium costs $7 per user per month.
And the best part? Like the cherry on the cake, in late September, Microsoft is providing a 60-day self-service free trial for users to test out all that Teams Premium has to offer. So, let's quickly dive into knowing about the advanced Teams Premium features. 
Why do Admins Need to be Concerned About Teams Premium Update?

 
The Microsoft Teams Premium brings significant changes for administrators to be aware of. With the general release of Teams Premium, some current Teams features will move from actual Microsoft Teams licenses to Teams Premium licenses. In order for your users to continue using these features, you will need to purchase and assign Teams Premium licenses. 
To find which features will be available exclusively under Teams Premium after license enforcement, please refer to the table below.  
Features

 

License Enforcement From

 

Live translated captions

July 2023

 

Timeline markers in Teams meeting recordings

 

April 2023

 

Custom organization Together mode scenes 

 

April 2023
Receiving SMS notifications as reminders for Virtual Appointments
August 2023
Organizational analytics of Virtual Appointments in the Teams admin center

February 2023

Scheduled queue view in Virtual Appointments 

March 2023
It's also important to evaluate if these features align with your organization's needs and if they will provide enough value to justify the cost of $7 per user per month. Administrators will have a 30-day period to make the purchase and retain access to features that were previously included in the free version of Teams. As an exception, live translated captions functionality has 60-day grace period.  If the administrator does not purchase Teams Premium during this grace period, users will lose access to above mentioned features. 
Key Enhancements

in Microsoft

Teams Premium
Microsoft Teams Premium is designed to provide advanced meeting capabilities and to help admins take their meeting culture to the next level. It is suitable for a variety of meetings, including one-on-one meetings, large meetings, virtual appointments, and webinars. 
Let's see an overview of what you can do with Teams Premium features. 
Personalized Meeting

Settings

: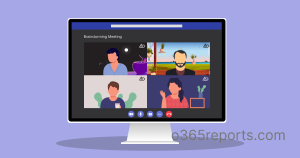 Brand Your Organization and Extend Company Culture Across Meetings
With Microsoft Teams Premium, organizations can extend their brand and company culture across meetings by using a

custom background

and custom layout.

 

Adding

custom branding

to Microsoft Teams enables users to customize the experience with the brand of their company. This allows them to upload the organization's logo to create a personalized and professional environment fostering a sense of unity within the team and with external partners.

 
Inbuilt Standard Meeting Templates for Quick Scheduling
With the all-new meeting guides in Teams Premium,

the meeting options will get automatically set

, based on the type of meeting

like a client call, brainstorming meeting, or help desk call. This feature improves the Teams experience by saving a lot of time in setting meeting options, which was previously a task that could only be done by IT administrators.

 

This saves time and eliminates the need for manual configuration. The guides can be customized and managed by IT admin which ensures that meetings comply with company best practices and policies.

 
AI-Powered Meeting

Settings: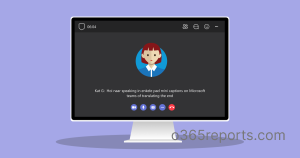 Powerful AI to Generate Live Translation in Meetings
As we already know,

Teams meetings with live captions generated by AI can help ensure that all participants can understand what is being said, regardless of their language or hearing ability.

 

With Teams Premium, meeting organizers can enable live translated captions for all attendees, ensuring that everyone can enjoy and understand the conversation regardless of language barriers.

 

The addition of

real-time translation of the captions into 40 different spoken languages

can further make meetings more inclusive for participants who speak different languages.

 
Intelligent Recap of Meetings to Increase Productivity
Intelligent Recap in Microsoft Teams is a feature that utilizes AI technology to improve the productivity and effectiveness of meetings. It uses AI to

suggest action items and assign owners for follow-up tasks

, which can help ensure that important actions are not missed.

 

For example, let's say you have a weekly team meeting where various topics are discussed, and decisions are made. With Intelligent Recap, the AI can analyze and can suggest checking on specific files and even assign owners for follow-up tasks. This can help ensure everyone is on the same page regarding what needs to be done.

 

Additionally, Intelligent Recap generates smarter meeting recordings by automatically creating chapters. It also

highlights key moments

such as when a specific person's name is mentioned or when a screen is shared, making it easier for users to review and catch up on the content of the meeting.

 

You can start exploring 'Intelligent recap features' now since it made generally available from May 30, 2023, for Teams premium members.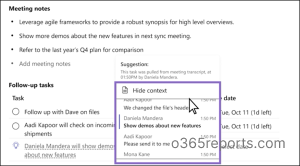 AI-Powered Smarter Transcript Search
As a part of Intelligent recap, there also comes an improved search feature, where you can easily

find key information in meeting transcripts

which includes personalized suggestions for speakers.

 

 

These suggestions are based on who you closely work with, which can help make it more efficient for you to search through meeting transcripts for information that may be particularly relevant to you and your work.

 
Enhanced Security

Meeting

Setting

s

: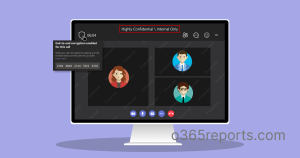 Watermarking for Sensitive Teams Meetings
By having Teams Premium, it is now possible to protect the confidentiality of

sensitive Teams meetings by custom watermarks

. Teams meetings can display a watermark on both contents shared on screen and attendee videos.

 

This helps to protect the confidentiality of the shared content by preventing unauthorized screenshots and also makes it easier to identify the source of leaked information.

 
End-to-End Encryption for Increased Confidential Meetings
We already knew that

End-to-end encryption is supported for 1:1 Teams calls

. Now, End-to-end Teams meeting encryption requires Microsoft Teams Premium License. When meetings in Teams are end-to-end encrypted, only the participants in the meeting can listen to the communication, and no other party, including Microsoft, has access to the decrypted conversation.

By late October 2023, end-to-end encrypted for Teams meetings can have a meeting size up to 200 participants. 
End-to-end encryption is supported for meetings

between two parties when they are using the latest version of the Teams desktop client for Windows or Mac, or a mobile device with the latest update for iOS and Android. However, meetings attended via the browser do not currently support end-to-end encryption.

 

When you turn on the E2EE option for a 1:1 call or meeting, it may limit some features and make it harder for IT to manage the meeting. Features like recording, live captions, and call transfer won't be available with E2EE. This means that E2EE should only be used for specific and targeted situations to maintain security and compliance.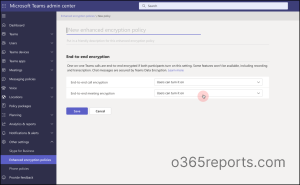 Automated Meeting Protection Using Sensitivity Labels
Microsoft

extended sensitivity labeling for meeting invites

for protected Teams meetings. 

This feature helps organizations to ensure that sensitive information is only shared with the appropriate individuals and that all team members are aware of the sensitivity being discussed.

 

It is necessary for compliance admins to have at least an

E5 subscription and a Teams Premium

license in the organization to use sensitivity labels in Teams meetings. In case of an end user, you must have both.

 

With a sensitivity label, administrators can have more control over meeting settings, including: who is allowed to bypass the lobby, who can present, who can record, encryption for meeting video and audio, automatic recording, video watermarking for screen sharing and camera streams, and enabling or disabling chat and copying chat to clipboard. Note that some of the meeting protection options will only take effect for the next instance of the meeting, after all participants have left and re-joined.

 
All these confidential meeting settings such as watermarking, end-to-end encryption, and automated meeting protection are enforced by sensitivity labels. 
High-Quality Webinar Experience

: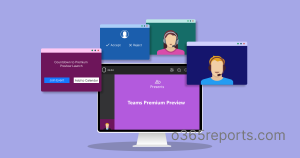 Registration Waitlist and Manual Approval
Microsoft Teams Premium includes advanced webinar capabilities, such as a registration waitlist and manual approval feature.

The registration waitlist

allows additional people to register for a webinar

even

after the event has reached capacity. These registrants will be added to the waitlist and will be automatically moved to the pending approval state as spots open up.

 

The manual approval feature

allows the organizer to review the registration information

of those on the waitlist and decide whether to approve or reject each registrant. This feature gives the organizer more control over who can attend the webinar and helps to ensure that only qualified attendees participate.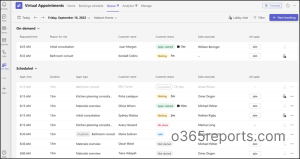 Registration Start and End Time Customization  
When using the advanced webinar capabilities in Microsoft Teams Premium, you can also

customize the registration start and end time

for your event. This feature allows you to specify when you want registration to begin and end, providing you with more control over the event planning process.

 
Having control over the registration time frame will help you to better manage the number of attendees you expect and also to plan your event accordingly.

 
Automated Reminder Emails for Webinars
To attract attendees and build excitement for the webinar, Microsoft Teams Premium provides the capability to

send automated reminder emails to confirmed registrants

on the day of the event.

 

These emails can be customized with a custom-branded header and include details about the webinar such as the date, time, and topic. Additionally, these reminder emails will include a link for attendees to join the event on the day.

 
Virtual Green Room
Microsoft Teams Premium provides a virtual green room feature that

allows hosts and presenters to connect and manage behind-the-scenes actions

before an event, much like a physical green room.

The virtual green room is a dedicated space separate from attendees, where hosts and presenters can socialize, monitor chat and Q&A, manage attendee settings, and review content before the event starts.

 

It allows presenters to better prepare for the event, review the agenda, and ensure that everything runs smoothly. Virtual green room functionality is not supported on mobiles yet.

 
Control What Attendees See
Engagement is an important factor in making webinars successful, and the

ability to manage what attendees see

is an important feature that helps to keep attendees engaged.

With this feature, a host can customize the attendee view so that attendees only see the content and participants that the host wants them to see, avoiding potential distractions.

 

This feature allows the host to keep control over the flow of the presentation, showing only the content and participants that are relevant to the topic.

 
Advanced

Virtual Appointment Experience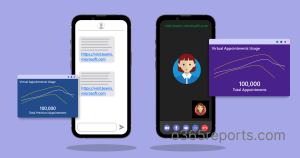 Personalized End-to-End Virtual Appointments
With Microsoft Teams Premium, hosts can facilitate a smooth experience for attendees by providing them with options to

join the custom branded virtual meeting through their mobile browsers

without needing to download the Teams app.

 

It also includes the

ability to send text reminders to attendees

, which can help to ensure that they don't forget about the meeting.

 
Flexible and Optimal Appointments Scheduling
One of the advanced capabilities that Teams Premium provides is appointment queuing, which allows schedulers to manage a large number of appointments and attendees. This feature can save schedulers time and effort, while also providing a better experience for attendees.

 

Appointment queuing allows the scheduler to

create a virtual waiting list for attendees

, and automatically assigns the next available appointment slot to the next person in the queue, this can help to ensure that all attendees are able to schedule an appointment in a timely manner.

 
Rich Usage Analytics and Insights
One of the challenges of virtual appointments is the lack of metrics around attendance and participation, which can make it difficult to gain insights and understand trends to improve the customer experience and business outcomes. In addition to the Teams Virtual Appointments Usage report, Microsoft Teams Premium offers analytics to help schedulers and organizers

view usage trends and the history of virtual appointments

.

 

This includes metrics such as no-shows, wait times, and attendance rates which can be viewed at different levels such as staff, department, and organization thereby, allowing a more comprehensive understanding of the data.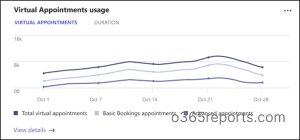 Experience the Teams Premium Features on Your Own
Yes, you can experience the Teams Premium features for yourself by signing up for a Microsoft Teams Premium free trial. Microsoft has made 25 free trial licenses available for the Teams Premium package, allowing organizations to test the new functionality for 30 days. After the trial period has ended, the accounts assigned the licenses will lose access to the premium features. 
To sign up for a Microsoft Teams Premium 30-day trial plan, you can follow these steps: 
Open

Microsoft 365 Admin center

.

 

Navigate to

Billing

–>

Purchase Services

.

 

Search for

Teams Premium

under Collaboration and Communication catalog.

 

Enroll

and start your free trial.

 
If this method doesn't work for you, you can click here to purchase Microsoft Teams Premium Free Trial.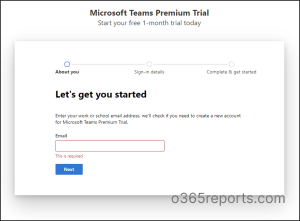 By using the free trial, you can get a sense of how the premium features work and how they can benefit your team, this will give you an idea if the $7 per user per month is worth it or not.  
In conclusion, Microsoft Teams Premium offers a wide range of advanced features and capabilities that can help to improve the virtual meeting experience, making it more personalized, intelligent, and secure. If you have further queries, feel free to reach us through the comments section.