Collaborative Meeting Notes in Microsoft Teams: Say Goodbye to Manual Notetaking
Meetings have become an integral part of our work life, and with remote work becoming the norm, virtual meetings have become more frequent. However, taking meeting notes can be a tedious and challenging task, and sharing them with participants is even more so. But Microsoft is about to change all that with its new feature – Collaborative Meeting Notes in Microsoft Teams (101509). Microsoft will begin the rollout of the preview version in late May, followed by the standard release in mid-June. Let's get started! 
Working of

Collaborative Meeting Notes in Microsoft Teams

 
Learn about Collaborative Meeting Notes 
The Collaborative Meeting Notes feature is

designed to enhance collaboration

during meetings by enabling participants to work together in real-time. 

 

With this feature, participants can

create an agenda, take notes, and add tasks or meeting actions

as the meeting progresses.

 

These capabilities are now

integrated into end-to-end experience in Teams, Loop, Planner, To Do

, Office.com, and OneDrive for Business.

 

 If a participant is assigned a task during the meeting, they will

receive email notifications

, and their tasks will be synced with the Planner and To Do apps.

 Meeting organizers can also

add Collaborative notes before the meeting starts

, allowing them to recreate agendas and keep all meeting materials in one centralized location that is accessible to all participants. 

 

With Collaborative Meeting Notes, you can

improve the efficiency of your meetings

and ensure everyone is on the same page with tasks and notes.

 
Note – Collaborative notes will generate a Company Shareable Link (CSL) by default. 
Where can you

S

pot

C

ollaborative

N

ote

in

 

Teams

M

eeting?

 
Once the update rolls out, you will see a new 'Notes Button' during meetings that will allow you to leverage the new capability. Meeting notes will be displayed on the right pane of the meeting window, and you can also pop the window out to make more room or move to your second screen/monitor.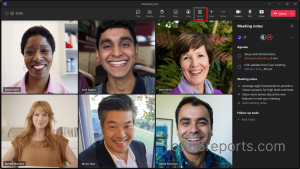 Once the meeting is over, the collaborative notes will remain accessible to all participants on the Teams calendar meeting details page.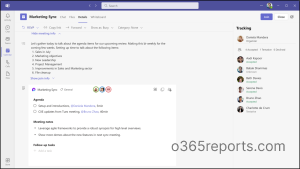 Collaborative Meeting Notes – A New Loop Component
Last but not least, the Collaborative meeting note is an innovative Microsoft Loop component you've been waiting for. By leveraging Collaborative notes, you can easily copy notes into chats, group chats, emails, or other documents, keeping everyone on the same page before, during, and after meetings.
This seamless approach streamlines prepping and follow-up, ensuring you're always prepared and making the most of your time. As a result, Collaborative note is an indispensable tool for any meeting, delivering the ultimate productivity experience for you and your team. 
How to Manage Collaborative Meeting Notes Using PowerShell?
Collaborative meeting notes in Microsoft Teams will be automatically enabled by default upon its rollout, so admins no need to set up any additional configuration.  
Although this feature is not directly manageable by admins, they can take control of it by utilizing the powerful SharePoint Online PowerShell cmdlets. 
Firstly, connect to SharePoint Online PowerShell by running the below cmdlet. 
Connect-SPOService

–

Url

https

:

/

/

tenant

-admin

.

sharepoint

.

com

/
Then, run the following cmdlet to ensure whether collaborative meeting notes is enabled.   You can check it by verifying if the following property is true.
Get-SPOTenant

|

select

IsCollabMeetingNotesFluidEnabled

By default, the setting will be turned on. If admins want to disable collaborative meeting notes, then run the following cmdlet. 
Set

-SPOTenant

-IsCollabMeetingNotesFluidEnabled

$false
This is how admins can manage the feature and customize it according to their organization's specific requirements. 
I hope this blog helped you gain better knowledge about collaborative meeting notes in Microsoft teams. We will update you once this feature becomes available. If you have further queries, reach us through the comments section.