Microsoft Syntex: An AI-Powered SharePoint Content Service in Microsoft 365
Artificial Intelligence always has been a fascinating topic due to its automation and streamlining process of human activities. No doubt, its advancements were the fuel to the growth of technology and innovation. Now as next in the list, SharePoint Online comes with an AI service called 'Microsoft Syntex' for enhanced content management in Office 365.  
Microsoft Syntex basically combines AI and machine learning services for the advanced optimization of content in SharePoint libraries. Primarily, it transforms any information into enriched knowledge through AI-driven processes.  
Without further delay, let us deeply look through Microsoft Syntex and its advanced AI capabilities in detail under this blog. 
What is Microsoft Syntex?
Microsoft Syntex plays a major role in managing and optimizing content in your SharePoint document libraries. It automatically analyzes, categorizes, and then transforms the various types of data into knowledge from the documents in SharePoint libraries
Microsoft Syntex uses content AI and intelligent document processing to understand, process and meet compliance standards of the content.
Say, for example, you always need to file the bill statements of your organization and process that data for further investigation. Isn't it tiring to process the vast data of each bill of your organization? Fortunately, Microsoft Syntex lends you a hand with this never-ending task. 
It completely takes charge of your manual work like examining, searching, and extracting granular details consisting of product name, merchant name, address, and amount spent in your bill statements through AI and machine learning algorithms. 
Unique Capabilities of Microsoft SharePoint Syntex
Content Intelligence

– Use AI to understand and label structured and unstructured contents with zero-coded models.

 

Content Services

– Automatic labeling of sensitivity and retention labels ensures security and compliance.

 

Discovery of Content

– Annotation, redaction, and PDF management is now flexible for numerous users through AI content discovery.

 

Drive efficiency and reduce risk

– The automation process of tagging, labeling, and organizing content reduces human efforts and errors simultaneously.

 

Optimizes processes and workflows

– Ultimately process the entire organization's content with AI features and enhance the workflow.

 

Simplify search and collaboration

– Save your efforts and time with natural language and form-based search thereby collaborating effectively.

 
Licensing and Pricing for Microsoft SharePoint Syntex
Microsoft offers two types of SharePoint Syntex service licenses which are listed below. From this, you can choose the best model that suits your organization. 
SharePoint Syntex per-user licensing

 

Microsoft Syntex pay-as-you-go

 
SharePoint Syntex Per-User Licensing:
Users without a Syntex license can't access Microsoft Syntex. Also, if you have removed all your 'Syntex per-user licenses', or 'your Syntex trial expires' then your users will not be able to access the resources for creating, publishing, and running the desired models.  
Tasks Requiring Syntex Per-User License: 
The user can perform the following tasks only if the user has the Syntex per-user license. 
Licensed users can apply an

unstructured document processing & custom model

to a library, create

structured or freeform document processing

, and run an on-demand unstructured document processing. Whereas unlicensed users have permission to access the content center and create models, but they can't apply them to the library. 

 

They are allowed to

create a modern template

using content assembly, use content query to

search metadata

, access

annotations

, frame

document library rules

, and utilize

premium taxonomy services

such as SKOS-based term set import, pushing enterprise content types to hub, and term store reports.

 
Per-User License Plan 
Organizations should have subscriptions to Syntex, and licenses should be assigned to each user that includes.  
Syntex

 

Syntex –SPO type

 

Common Data Service for Syntex

 
And for unstructured or freeform document processing models, AI builder credits are also required.
Microsoft Syntex Pay-As-You-Go:
Without any license commitment and upfront purchasing, you can use the Microsoft Syntex pay-as-you-go model. However, an Azure subscription in the same tenant of Syntex and Azure resource group is required for this model. 
IMPORTANT: You can't sign up for the pay-as-you-go model if you are using the Microsoft Syntex per-user licensing. 
How to Setup Syntex for Microsoft Syntex?
Make sure to configure adequate licensing and pricing options for setting up the Microsoft Syntex. 
Permission Required: Global administrator and SharePoint administrator 
Navigate to the path below to set up the Microsoft Syntex in your organization.
Microsoft 365 admin center 🡢 Setup 🡢 Files and content 🡢Use AI with Microsoft Syntex 🡢 Set up Microsoft Syntex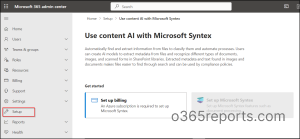 After that, you can allow your users to use AI Builder to create and train models and implement them in SharePoint documents on the

Configure AI Builder model creation

page.

The enabled SharePoint document library will show the below-menu to select which SharePoint sites should have the option of creating structured and freeform document processing models.

 

All SharePoint sites

– This option makes it completely possible for all SharePoint libraries in your Office 365 to access the specified models.

 

Libraries in selected SharePoint sites

– It will be available only for the selected SharePoint sites and the maximum number of sites that can be selected is 50.

 

No SharePoint Libraries

– When this option is enabled, no SharePoint library can create these models. But this option can be disabled and switched to other existing options.

NOTE: Once after adding the site and then removing them will not affect the existing models. Also, an unstructured document processing model can be applied to that library without any impact. 

Next, select the checkbox

"Enable AI builder model creation in all content center sites"

under

Libraries in selected SharePoint sites

to create the model in all content center sites.

For selecting the

Power Platform environment

, either you can select

"

Use the default environment

"

or

"

Use a custom environment

"

. But while choosing the custom environment, make sure you satisfy the

requirements of custom Power Platform environments

.

 
Default Content Center Creation
Now, click

Next

and on the

Create the content center

page, create a SharePoint content center site to construct and handle unstructured document processing models.

 

Give a name to your content center site and the URL of the site address will be displayed based on the name you have suggested. Select

Edit

to change, otherwise, select

Next

.

 

Review the selected settings in the

'Review and finish'

page and select

Activate

to apply the settings.

 
Confirm it with the Done button and soon you will be returned to the "Use content AI with Microsoft Syntex "page where you can change and manage your Syntex configuration settings.
Create a Content Center in Microsoft Syntex
The content center is the model creation interface where you can create and manage enterprise models. A default content center is created during the setup process. But you may need additional content centers for various departments which admins can create in the SharePoint admin center.
     1. Firstly, navigate to the following path to create a content center. 
SharePoint admin center 🡢 Active sites 🡢 Create 🡢 Other options 🡢 Choose a template 🡢 Content center 
Provide the

Site name, Primary administrator,

and

Language

to the newly created site.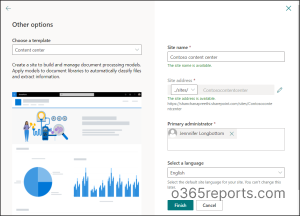 Click

Finish

to see the site in Active Sites.
NOTE: Default language can't be edited once it is created. Also, the content center site renders in the specified language but the current models can be created only for English files. 
Key Features and Elements of Microsoft Syntex
Now, let us look at the various features of Microsoft Syntex and its effective changes on the documents of SharePoint libraries. 
Overview of Model Types in Microsoft Syntex
Microsoft Syntex uses models to understand, detect and classify SharePoint documents to retrieve the required information from the files based on file type, data type, etc. It uses custom models and prebuilt models based on the specific needs. 
Custom Models 
The models which you build to understand your files from sample documents are known as custom models. Custom models have the following types. 
Unstructured Document Processing

– This model primarily automates the classification of files and extraction of information from unstructured documents using classifiers and extractors.

 

Freeform Document Processing

– These models are created using Microsoft Power Apps AI Builder document processing to classify and extract the data of freeform documents such as mail, fax, etc.

 

Structured Document Processing

– Use structured document processing models to examine and obtain field and table values from structured documents or semi-structured documents like forms and invoices.

 
Prebuilt Models
Instead of doing it from scratch, Microsoft Syntex provides prebuilt models for automating the extraction process where they are pretrained to recognize and extract the key data from the files. 
Contract Processing Model

– This model scans the contract documents and extracts details like client name, contract duration and renewal time.

 

Invoice Processing Model

– Primarily, it examines and retrieves key information from sales invoices such as customer name, billing address, due date, etc.

 

Receipts Processing Model

– Here, it inspects the printed and handwritten receipts and extracts the key receipt information like merchant name, phone number, transaction date, tax, etc.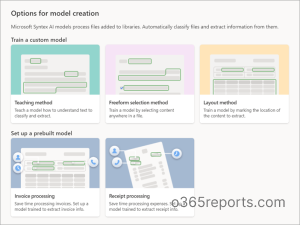 SharePoint Syntex Content Assembly
Create modern templates with existing documents and then use the created template for the automatic generation of regular official documents in content assembly. Use manual entries, SharePoint lists, or taxonomy as an information source for this automatic generation.  
Syntex per-user license and permissions to manage SharePoint lists are required to access the content assembly of Microsoft Syntex.

Uses of Content Assembly 
Generate standard documents like contracts, service agreements, consent letters, and statements of work quickly and consistently with content assembly.

 

Moreover, it generates error-free documents with these templates. Therefore, you can start

creating modern templates

to unleash the potential of content assembly in your Office environment.

 
Limitations of Content Assembly  
Under this feature, you can create templates only from Microsoft Word documents of the .docx/.doc extension type.

 

Word documents shouldn't contain content controls, or comments or have Track changes enabled while creating templates.

 
Content Understanding and Processing with SharePoint Syntex 
Microsoft SharePoint Syntex allows you to create simple conditions-based rules for processing the data and constructing the content architecture of SharePoint Online. You can use them to notify when a new file is created, moved, or copied based on metadata, and when metadata is changed in a file.  
Use Syntex Content Query to Discover Content
Identifying a particular piece of information like when a document was modified, the person associated with a file, and a specific file type makes users anxious and frustrated. To take away this hassle, content query helps us to

create search queries

where you can scan, and search based on specific metadata.

 

Majorly, content query allows you to search based on specific metadata. Rather than checking using only keywords in documents, it makes the

search query faster with metadata values

. Now create and search with

Syntex content query

in the SharePoint document library for a magnified view.

 
Comment and Collaborate with Syntex Annotations
Add notes and comments on your content in SharePoint document libraries for the purpose of recollecting or collaborating with others using Annotations. 
This feature holds tools like a

pen, multi-color highlighter, and eraser for modification

where the original file records are protected securely.

 

 

And the feature is

only available for

.pdf, .tiff, .epub, and .ai

document types. Also, remember that the feature is available and accessible

only for Syntex licensed users

. 

 

Above all, you can select the

annotations icon to hide and display the notations

for other users.

 

SharePoint Taxonomy
Taxonomy is the classification system of words where they are grouped and arranged based on a hierarchy. Organizations use SharePoint Taxonomy for the purpose of creating charts of accounts taxonomies, organization charts & job classifications, product catalogs, and so on.
The major features are SKOS-based term set import, pushing enterprise content types to a hub site, and term store reports. For enabling the term store features admins requires additional licenses of Microsoft Syntex. Also, know that you can utilize global term sets in the term store while creating extractors in document understanding models.  
Benefits of Microsoft Syntex
As far as we have observed, from data handling to user productivity, Microsoft Syntex can be very beneficial to all SharePoint Online users out there. So here are the few benefits of Microsoft Syntex which are listed below. 
Improves Users' Productivity

– First and foremost, the automation of content-based processes is a huge breakthrough for organizations that have numerous repetitive processes in their day-to-day life.

 

Transforms Raw Data into Vital Knowledge

– Microsoft SharePoint Syntex mechanizes the process of sorting, analyzing and transforming SharePoint data into meaningful information for taking significant business decisions in your organization.

 

Findability and Content Compliance

– Primarily Microsoft Syntex improves search accuracy and manages the compliance issues of Microsoft 365 by making the content more understandable.

 
Compliance and governance can't be achieved without a better understanding of the content. Thus, Syntex uses retention labels and sensitivity labels for compliance management. 
One Solution to Multiple

Problems

– Microsoft SharePoint Syntex is quite handy in various

scenarios and use cases

like tracking information from invoices, tracking information from contracts, capturing information from previously inaccessible documents, etc.

 

Security is the Ultimate Priority-

Configuration of external sharing in SharePoint Online

imposes a threat to content security. But now, drop all your worries, as you can securely manage and share your content with the AI-powered security Syntex.

 
Real-time Situations Using Microsoft Syntex in Content Service
Let us deeply look through some real-life situations in which Microsoft Syntex played a major role under this section.
Spot the Content details with Syntex


We know that managing legal content, patent filings and intellectual property documents is definitely not an easy task for the legal team. Now we can use Microsoft Syntex for centralized management, to streamline processes with the document processing model and content query to extract metadata & information.

 

Microsoft Syntex Site template solutions


Syntex's pre-built, ready-to-deploy, and customizable

SharePoint site templates

help organizations ultimately govern and handle business documents. For example, your organization can handle, process, and track business purchase orders and invoices with the 'Accounts Payable' site template.  

 

Bulk document generation


Let's say you need to generate multiple contract renewals with different parties, now easily generate them at the same time, and save time with the Syntex content assembly and Power Automate.

 

Generation of routine documents with Microsoft Syntex 


In most cases, users manually inspect and enter the data for generating routine maintenance reports. Repeatedly transforming manual data into digital data on a regular basis is a tiring process. Thus, content assembly and Power Automate helps in generating the standard documents after receiving manual inputs from Microsoft Forms.

Document handling with Syntex Content Assembly
Syntex eases the burden of document handling such as insurance forms, rental agreements, and business contracts. Most insurance companies receive paper-based enrollment forms, process them manually, and transform them into digital data for review purposes. But Microsoft Syntex extracts every piece of information including check boxes and handwritten details using AI-driven processes, eliminating human errors.
Maximize your Content Efficiency with Microsoft Syntex
Utilize our all-inclusive and elaborate guide to set up Microsoft Syntex in your organization.  
Instead of manually processing stacks of records, just create templates to process them automatically.

 

Also, minimize human errors and improve accuracy by implementing it in your Office 365.

 

So, better don't burden yourself with content management tasks, deploy Microsoft Syntex for automation with AI and machine learning services.

 
"Get content AI with Microsoft Syntex and get ahead of content management in SharePoint Online!"
Finally, we hope that this blog provides you with a deep understanding of Microsoft Syntex and its features. So, start setting up Microsoft SharePoint Syntex and analyze it to experience an end-to-end intelligent document processing in your organization. After exploring the Syntex, share your experience and thoughts in the comments section.