New Microsoft Teams: The Future of Workplace Communication
One of the most widely talked-about news since yesterday is the release of the new Microsoft Teams. Yes, It's a new phase for Microsoft Teams users. Gear up for the new and amazing updates Microsoft Teams has ever got! It is now 2X faster, simpler, smarter, and more flexible. Although the general availability of the new Microsoft Teams app for Windows is expected later this year, it is currently available in public preview. So, let's explore more about the new Microsoft Teams.
UPDATE! Microsoft has officially made available the new Microsoft Teams app for Windows and Mac making it accessible to both enterprise and education customers as of October 5, 2023.

According to Microsoft, the new Teams app now has achieved near-complete feature parity, meaning that almost all functionalities are fully available. Microsoft also added that the classic Teams app will be renamed as Microsoft Teams Classic for Windows 10 and Mac devices, and as Microsoft Teams Classic (work or school) for Windows 11.

For organizations using the default policy, existing Teams users will be automatically switched to the new Teams and they will have the ability to switch back to Classic Teams for a limited period.
Note: The classic Teams users will be automatically updated to new Teams in the coming months.

What

is

 the New Microsoft Teams for Windows?

 
Microsoft Teams is a software program that helps people communicate and work together remotely. The newest version of the program has been designed to work faster and better than ever before. It loads more quickly and uses less of your computer's memory and disk space, which makes it easier to use and more efficient. Plus, it can bring together people from different accounts or groups, making it easier to work together as a team. 
Important: The preview of the new Teams app is currently available to commercial users on Windows. Microsoft has promised to extend the preview to customers, including Education, Government Clouds, and platforms such as Mac, VDI, and Web later this calendar year.   
What are the Prerequisites to

U

se the

N

ew Teams?

 
Users require the following requirements to utilize the new Microsoft Teams app. 
Windows 10 version 10.0.19041 or higher

 

Teams app version 1.6.00.4472 to see the 'Try the new Teams' toggle.

 

Turn on the "Show Notification Banners" setting in 

System > Notifications > Microsoft Teams

 to receive Teams Notifications.

 
Switching to the New Microsoft Teams

 
Microsoft has announced the public preview of the new Microsoft Teams for Windows, which promises to deliver even more improvements and features to help users work more efficiently and productively. To switch to the new Teams, you only have to toggle the button available at the top-left corner of your Teams. Note that you will have to enable MS Teams public preview first. 
After enabling, 'Try the new Teams' toggle button appears at the upper-left corner, the Microsoft Teams desktop app will be updated as shown below.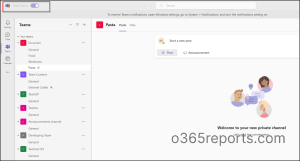 Once you turn on the toggle, the new Teams app starts installing and reboots to open the new experience. Sliding into the classic experience can be done by just turning off the toggle. It is easy to go back and forth! 
Here are some of the key features and improvements you can expect from the new Microsoft Teams for Windows: 
Note: Microsoft will soon allow admins to deploy the new Teams client directly to PCs within their organization. The rollout is set to begin in mid-July 2023.
1. 2X

Fa

s

ter and Lighter

Experience

 
The new Teams for Windows is optimized for performance, with faster load times, smoother scrolling, and improved animations. Microsoft states that the application launch times for the classic and new Teams are 22.1 seconds and 9.1 seconds respectively.  
The new Microsoft Teams app has also seen two times faster channel switching compared to the classic experience and has been optimized for enhanced productivity by utilizing 50 percent less memory. This reduced memory usage is due to the transition from Electron to WebView2. 
2. Multiple Accounts and Organizations

 
You no longer need to log in and out of different accounts! Instead, you can stay signed in and receive notifications from all your accounts, regardless of which one you're currently using. The New Microsoft Teams now supports multi-tenant organization.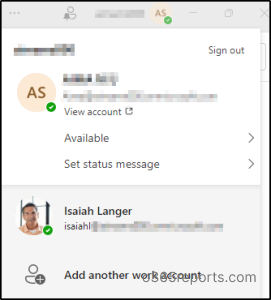 When you use multiple tenants and open other apps such as Excel and Word within Microsoft Teams, there is a chance that you are signing in using different accounts and a message saying "There's a small chance you're signed into Excel and Teams with different accounts" may appear. In that case, you can sign out and sign in again. 
3. Updated Look and Feel

 
The new Teams interface has been redesigned to make it more intuitive and user-friendly. The new design puts the most frequently used features front and center, making it easier to find what you need quickly. The new channel experience shows posts from top to bottom, having the most recent one at the top. 
4. Pop Out Conversations
This feature allows users to pop out their channel conversations into a separate window, so they can continue the conversation while also working on other tasks in the main Teams window. 
To do this, hover over the conversation and select More options ⋯ > Pop out conversation as shown below.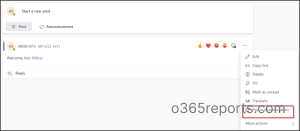 When you receive a notification in the classic Teams, it takes you directly to the channel where the message was posted. But in the new post experience, only the posted message is seen, and you can enter the channel by clicking on the 'Go to channel option' 

Users can now manage teams from the newly added ellipsis for 'Teams' tab. They can check the pending invites, and above all check the analytics of each team in your organization such as number of active users, guests, replies etc.,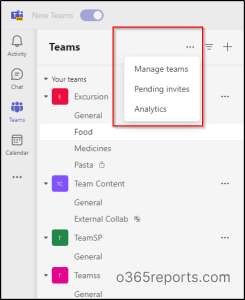 5. Enhanced Cloud Providers and Document Library Experience

 
With the new version, you can now use the Teams app from your third-party cloud provider to collaborate with files in Teams instead of adding third party cloud storage. 
To simplify the process of uploading and organizing files, use the SharePoint app instead of adding a document library as a tab in the channel, which will automatically convert existing libraries and allow for direct uploads and easy file organization.  

6. Large Scale Meetings

 
Performance and scale of Teams meetings now work better when there are thousands of people attending and using video and chat. The new experience included making things happen in groups instead of one at a time, reducing how often the screen updates. As a result, it's now quicker and more reliable to join a meeting and use the app, no matter how many people are there. 
7. Security

 
The new Microsoft Teams has also enhanced security by implementing content security policies to protect against cross-site scripting attacks. 
Recently, Microsoft has enhanced the security of the New Microsoft Teams in the following ways. 
 By utilizing MSIX packages and App Installer, the new MS Teams takes advantage of native Windows support, which helps reduce risk surface and lower maintenance costs.

 

To address security concerns, Teams will no longer be installed in the user profile, instead will be installed in a privileged location, making it more difficult for non-administrator users to interfere with its executable files.

 

The new Teams application has transitioned from using Electron to Edge WebView2, which has resulted in faster delivery of security fixes and improved performance.

 

Switching from Electron to WebView2 has made the new version of Teams take up less than 12 megabytes of space, while the classic version used to occupy over 134 megabytes.

 

The main Teams executable contains only application logic and necessary infrastructure, without Chromium or Node.js, reducing risk surface.

 

The new Teams web framework is constructed with React to improve the security of the code written by engineers.

 

The Content Security Policy (CSP) infrastructure has been enhanced to provide more fine-grained adjustments, resulting in a tighter and more precise policy.

 

To mitigate cross-site scripting attacks (XSS), Trusted Types have been implemented. The adoption of Trusted Types is expected to substantially improve the new Teams' resistance to XSS.

 
There are still several security improvements that need to be incorporated into the new MS Teams. Our blog will be updated once Microsoft addresses them. 
8. Rearchitected Video Rendering Pipeline 

 
The new video architecture for online meetings helps in more efficient video processing features such as less power consumption, supporting advanced video features such as dynamic views (e.g., 7×7 video grid, dynamic views) across a broader spectrum of hardware.

9. Streamlining Productivity with Copilot's AI Features
Copilot in Teams enhances the effectiveness of your meetings by assisting with various common tasks. Whether you join a meeting late and need to catch up, want to document unresolved issues, compile a list of unanswered questions, identify the right individuals for follow-ups, or create a pros and cons table for decision-making discussions, Copilot has you covered.
Microsoft Teams' Copilot feature helps you stay updated on chats without disrupting your workflow. Whether you've been in back-to-back meetings or on vacation, Copilot summarizes conversations, highlights key points, and lists action items.
10. Microsoft Mesh – Connect Like Never Before
Microsoft Mesh transforms the way M365 users connect and collaborate, offering immersive experiences. It introduces 3D avatars, spatial audio, and holoportation, powered by advanced AI, for innovative teamwork and engaging remote interaction.
11. New Meet App for Enhanced Meeting Management
Microsoft Teams introduces new Meet app for streamlined meeting management. It offers centralized hub for pre-meeting preparation, content access, and AI-powered insights. With this new Meet app, users can effortlessly find chats, agendas, Collaborative meeting notes, and Intelligent Meeting Recap, all together in one dedicated space.
12. Saved Items Feature
At present, the New Teams platform does not include a 'Saved' feature, which is available in Classic Teams. In the upcoming months, Microsoft will introduce the option to download saved items from Classic Teams as a document with hyperlinks to access them. Furthermore, a new and enhanced 'Saved' feature is in the works for New Teams and is expected to be introduced next year.
If users switch from Classic Teams to New Teams, they won't have access to their saved content. To view their saved items, users can revert to Classic Teams.
How to

Enabl

e

the New Microsoft Teams?
Admins can decide whether users can see the Try the new Teams toggle or not. Managing this setting can be done using the Teams admin center or using Teams PowerShell. 
UPDATE: Beginning November 17, 2023, the new Teams on web for Edge and Chrome will be generally available to users and will see the same 'Try the new Teams toggle' as desktop users.

For about eight weeks post this rollout, web users on Edge and Chrome will initially land on the classic Teams experience with a 'Try the new Teams' toggle even if administrators have set 'New Teams as default'. After January, Teams on Edge and Chrome will follow the default setting chosen by administrators.
Enable the New Microsoft Teams Using

the

Teams Admin Center

 
To control which users can see the toggle, create a Teams update policy by navigating to Microsoft Teams admin center -> Teams -> Teams update policies. 
Then, select an existing policy or create a new one. Edit the policy by selecting one from the available three options under 'Use new Teams client' and that's it! The default is set to 'Microsoft controlled'.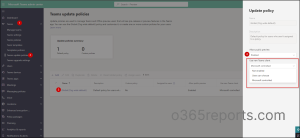 Enable the New Microsoft Teams Using PowerShell

 
First, connect to Microsoft Teams and use the following command to change the existing policy. 
Set

-CsTeamsUpdateManagementPolicy

–

identity

<

policy

name

>

-UseNewTeamsClient

UserChoice
Use the following cmdlet to create a new policy and set the Use New Teams Client option. Here, I have disabled the option to see the new Teams app toggle with this policy. 
New-CsTeamsUpdateManagementPolicy

-identity

<

policy

name

>

 

-UseNewTeamsClient

AdminDisabled
The following cmdlet applies the above created policy to the respected user. By the above policy, the specific user will not be able to see the new 'Try new Teams' option.
Grant-CsTeamsUpdateManagementPolicy

-identity

admin

@

contoso

.

org

-PolicyName

<

policyname

>
Admins can uninstall the new Teams client for all users using the following cmdlet. 
Get-AppxPackage

MSTeams

-AllUsers

|

Remove-AppxPackage

-AllUsers
UPDATE: Microsoft in a recent announcement ( MC617066 )  stated that they will be displaying 'Try the new Teams' toggle within the classic Microsoft Teams client where the admin policy setting of 'UseNewTeamsClient' is set to Microsoft default value (Microsoft controlled or Microsoft choice) which is scheduled to rollout in late July-early August 2023.
In addition to this, Microsoft has also planned to make the new Teams app the default option for classic Teams users where the policy is set to Microsoft default value. The planned rollout for this change will start in late September 2023.
Note: Admins who have already deployed the policy by enabling or disabling the "UseNewsTeamsClient" setting will not experience any changes.
New Microsoft Teams with Microsoft 365 Apps
Starting in September 2023, Microsoft will be installing the new Microsoft Teams as part of the M365 app installation for Windows. However, as an admin, you have opt-out control for this installation if you don't wish to have the new Teams installed automatically. Here's how you can opt-out.
Sign in to the Microsoft 365 apps admin center -> Customization -> Device configuration -> Modern apps -> Settings ->Select Microsoft Teams -> Disable automatic installation of new Microsoft Teams.
Conclusion
Overall, the new Microsoft Teams for Windows promises to be a significant improvement over the current version, with a range of new features and improvements that will help users work more efficiently and productively. If you're interested in trying out the new Teams for Windows, you can sign up for the public preview today and start exploring all the new features and improvements for yourself! 
However, the new version of Microsoft Teams may have some missing features that were available in the previous "classic" version. Microsoft has acknowledged some of these issues in their documentation, and it is hoped that they will be resolved before the new version becomes generally available.