New Usability Improvements to Together Mode in Microsoft Teams Meetings
Microsoft Teams is one of the most popular collaboration platforms used by organizations worldwide to conduct virtual meetings. It has various features that allow teams to work together effectively, irrespective of their physical location. One such feature is the Together Mode, which gained significant popularity during the Covid pandemic time.  
As Microsoft continues to innovate the Teams meeting experience with the Green screen feature, Intelligent Meeting recap, and Collaborative meeting notes, it has now introduced some exciting enhancements to Together Mode (MC551019). These new enhancements aim to make Teams meetings more inclusive and user-friendly, allowing participants to collaborate more effectively and efficiently. In early May, the public preview will be released, followed by the standard release in early June. 
 In this blog post, let's explore what improvements we can expect to see in Together Mode in the upcoming days! 
What is Together Mode in Microsoft Teams?
Together Mode was born out of necessity during the COVID-19 pandemic when remote work became the new normal. It is a feature in Microsoft Teams that allows meeting participants to feel as though they are in the same room, even though they may be miles apart. The goal was to create a virtual meeting experience that would simulate an in-person meeting, providing a sense of togetherness and belonging to remote teams. It uses artificial intelligence (AI) to place participants in a shared background, giving the illusion of a virtual environment.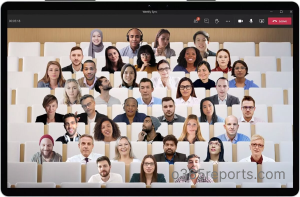 How to Enable Together Mode in Microsoft Teams Meetings?
Together Mode is especially useful for large group meetings, such as webinars, conferences, or classrooms, where it can be challenging to keep participants engaged and focused. Rather than appearing in separate boxes on a screen, users appear together in a virtual place that creates a more natural and immersive Teams meeting experience.  
Let's take a look at how to enable Together Mode in Teams meetings. 
Log into your Microsoft Teams.

 

Place a call or create a meeting in Microsoft Teams. For a better shared experience, you can add 4-5 members from your tenant.

 

Then, navigate to

'View'

panel and select

Together Mode

.

 

You will be allowed to select a shared background of your choice. After selecting, tap

Apply

.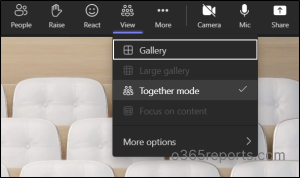 Microsoft has expanded the library of scenes available to users, offering a wider range of options to choose from. Users can select a scene that best suits their mood or the theme of their meeting. To access the library of scenes and change the scene during a meeting, simply click the "Change scene" text located in the bottom left-hand corner of the Together Mode Teams meeting.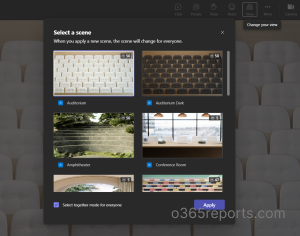 Together Mode for Everyone on Microsoft Teams Rooms
With the latest version of Teams Rooms on Windows app 4.17 update, you can select 'Together Mode for everyone' in Microsoft Teams Rooms. This feature is expected to begin rolling out in late June and will complete rollout by late July (126105). With this update, Teams Rooms on Windows now enables you to effortlessly select a suitable Together Mode scene for your specific meeting by utilizing the convenient view switcher on the console. Moreover, as an organizer or presenter, you can easily ensure that all participants see the same scene by simply clicking the 'Select for everyone' button and applying the changes. 
What are the New Usability Improvements in Microsoft Teams Together Mode?
Microsoft has recently announced new usability improvements to Together Mode that will enhance the user experience.  
Name Labels – One of the most significant improvements is the addition of name labels to the videos of participants in Together Mode. The name labels will also support status icons indicating the microphone, active speaker, spotlight, or pin within the meeting. This will make it easier for participants to follow the conversation and understand who is speaking. 
Removal of Own Video – The user's own video in the gallery will be removed while Together Mode is active, avoiding duplication of the self-preview. This will allow participants to focus on the shared virtual environment and reduce distractions. 
Raised Hands and Reactions – Moreover, Together Mode will display raised hands and reactions within the view, making it easier for participants to engage in the conversation and showcase who is intent to speak. This ensures instant feedback and participation from the users during a meeting.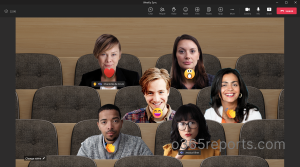 When will these Together Mode Usability Improvements get into Effect?
 The new improvements of Together Mode in Microsoft Teams will be rolled out in phases. As per Microsoft 365 Roadmap ID 122127, 
Targeted Release and Public Preview will begin in early May and complete rollout by mid-May.

 

Standard Release will begin in early June and complete rollout by mid-June.

 

GCC-High and DoD will begin in mid-June and complete rollout by late June.

 
By rolling out these improvements in phases, Microsoft can ensure that users have a seamless experience with the new features. 
Microsoft Is Catching Up with Zoom Immersive View
Zoom's Immersive View feature has been a resounding success among users, providing an innovative way to organize meetings within a virtual scene. Now Microsoft has made significant strides in catching up with Zoom by releasing exciting usability improvements in Together Mode Teams meetings, but this is just the beginning. With this new update, Microsoft is taking virtual meetings to the next level, providing an experience that is more immersive and engaging than ever before. It offers a great opportunity to make remote teams feel more connected and simulate a fun-filled meeting environment that is impossible to achieve with traditional video conferencing. Stay tuned for more updates!
I hope this blog prepped you with the new usability improvements in Microsoft Teams Together Mode. With the public preview set to begin in early May, start exploring the new functionalities soon and take advantage of the improved usability!