Simplify File Management with New Files App in Teams
Microsoft Teams has become one of the popular platforms for groups and individuals to collaborate and communicate with each other. Users can efficiently access and share files within the Teams client. However, managing all the personal and shared files exclusively is often difficult in Teams. To address this issue, Microsoft has recently updated (MC528955) the Teams files app with a new and improved version. This new files app in Teams now comes with dedicated tabs where users can easily manage and access their files effectively. 
Why Managing Files is More Efficient in Microsoft Teams? 
Microsoft Teams simplifies file management by enabling real-time collaboration and easy file sharing among team members. Teams acts as a hub to work on multiple files simultaneously and organize them within channels for efficient information sharing.  
Let's see the important aspects of how Microsoft Teams is managing files in Office 365 below. 
Organization Files Vault – Microsoft Teams provides a central repository for storing all necessary files and documents, making it easy to access and retrieve when needed. 
Seamless Collaboration – By enabling real-time editing and shared access to files, team members can collaborate more effectively in Microsoft Teams. 
Increase Productivity – Microsoft Teams integrates with other Microsoft Office apps, making it easy to access and manage files from a single location. This streamlines organizational workflows, allowing team members to locate, review, and complete tasks faster. 
Enhance Security – Microsoft Teams ensures that files are securely shared and only authorized persons can access them. Additionally, users can directly set the permissions levels while sharing the file in channels or private chats in Teams.
To collaborate more efficiently with files in Teams, Microsoft has introduced an enhanced files app that accompany all the necessary options to manage files inside Teams.
Newly Modified Files App in Teams
The new files app in Teams provides a modern interface for all your content from chats, channels, meetings, and any location from OneDrive or SharePoint. This will allow users to access your content without leaving or switching between different applications from Teams.  
Note: However, the new file app for GCC and GCC-H will start rolling out in early May, and DoD in early June, both completed by late May and late June respectively.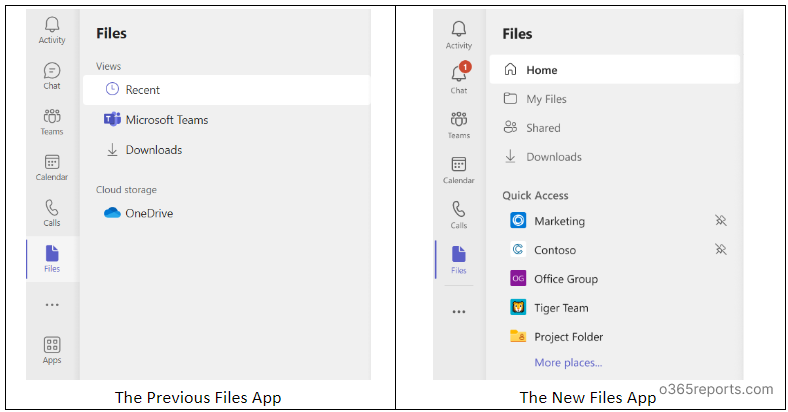 To enhance the user experience and collaboration, The new files app has introduced some tabs compared to the previous one. 
Use the Home Tab In place of the Recent Tab!  
Yes, now the 'Recent' tab has been replaced with the 'Home' tab. Users can easily view the recently modified Word, Excel, PowerPoint, and PDF files separately. You can access the respective files by clicking the default filters applied at the top of the recent tab. 
It eliminates the manual files' search in Microsoft Teams to keep track of the latest file updates.

Get the Personal OneDrive Files Inside the Microsoft Teams
Previously, we were managing the OneDrive files under the integrated OneDrive app in the cloud storage. However, to efficiently access the OneDrive files, now it has been moved above to the Cloud Storage. You can access all your private and shared files in the 'My Files' tab.  
With this option, you can view, create, upload, and manage your personal OneDrive files without navigating away from Teams.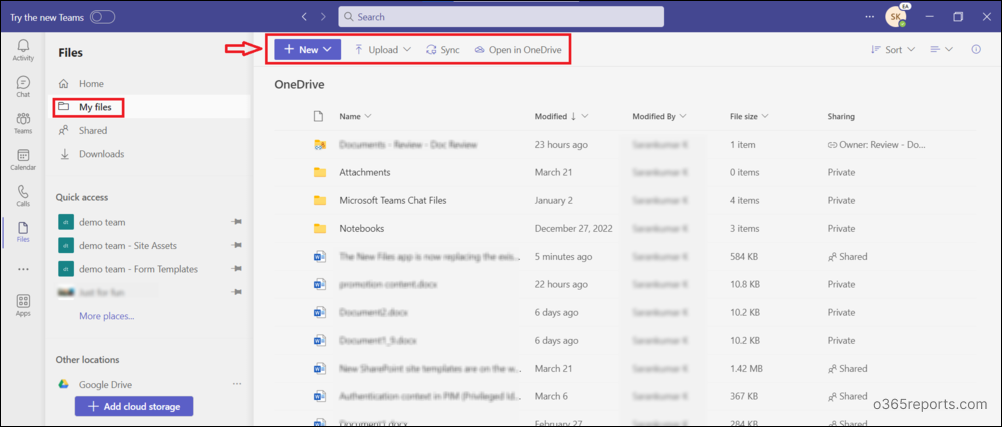 Note: You can manage files from multiple cloud providers like Google Drive, Dropbox, Box, Egnyte, etc. and access those files directly from Microsoft Teams. 
View Shared Files in the New Files App in Teams
Shared files on Teams can be accessed without any hassle inside the 'Shared' tab in the new files app. This option will help us to quickly identify the personal files that you shared with others and shared with you.  
This will potentially decrease the time required to search through all the shared documents across different channels, chats, or OneDrive. We can access the shared files under the below-mentioned tabs.  
Shared with you

–

You can use this option to easily view the documents that have been shared with you in Microsoft Teams.

 

Shared by you

– By using this option in Microsoft Teams, you can access the documents that you have shared with others.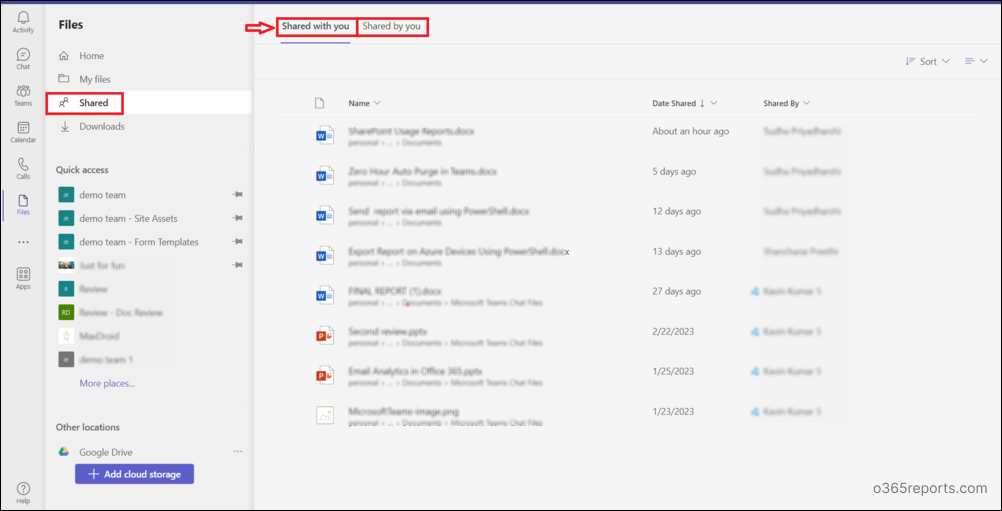 View Downloaded Files on Teams in Your Computer
Since the Downloads tab is already in the previous files app, now it is incorporated in the new files app. By utilizing this option users can manage the downloaded files and know the status and date of a file downloaded. The downloaded files in Teams can be accessible on your computer until you remove those files. 
Open Files Using Quick Access Tab
The Quick Access option gives a personalized experience that allows users to quickly access recently files in Microsoft Teams. By using the Quick Access option, users can pin document libraries or channels files tab to access the files rapidly. Thus, it saves time and improves productivity rather than retrieving files from different Office 365 services. 
Missing Files App Raises Concerns in New Microsoft Teams
The new Teams update offers advanced security features, such as Content Security Policy and Trusted Types, to protect against cyber-attacks.  
By enabling the new Teams, you can manage the system storage more efficiently, with up to 50% less memory than the previous version. The navigation has been optimized, with quick switching between chats, channels, and a faster-scrolling experience with reduced wait times. 
Even though the classic Microsoft Teams has significant improvements, there are several missing features in new teams including the files app. Files can be accessed only inside the chats and channels in the new version of Teams. Thus, it makes us redirect to the OneDrive every time when we need to access all the personal and shared files collectively. 
However, let's hope that Microsoft will address and provide a suitable replacement or bring a files app to ensure effective file management in new Teams. 
Thus, I believe this blog will help you to quickly access, manage, and share files using the new files app in Teams. So, experience the benefits of the new files app and take your file management to the next level!