How to: Share Files Securely with Microsoft Teams
Sharing files is common in all business organizations. As data security is essential, it is important to share files securely to protect sensitive data. Most organizations configure the default file sharing method as 'Only people in your organization.' If you are one of them, this blog is for you.  
Do you believe a file shared in Microsoft Teams' 1:1 or group chat can be accessible by all the people in the organization? Yes. It is possible if they had a sharing link. Let me explain in detail.  
How File Sharing Permission works in Microsoft Teams?  
We all know that Microsoft has introduced the new file sharing experience in Microsoft Teams to make it align with SharePoint Online and OneDrive. However, Microsoft Teams has no separate sharing configuration; All the file-sharing settings are controlled through the SharePoint admin center. So, the default sharing permission in Teams will be the same as the tenant level settings. 
When a user sends/shares a file in 1:1 or group chat, it automatically sets permission to all people in their organization unless they modify it. But most users are unaware of the permission settings and do not change them. If they missed changing, any people in the organization might access the sensitive file by using sharing link. The same behavior applies to group chats also.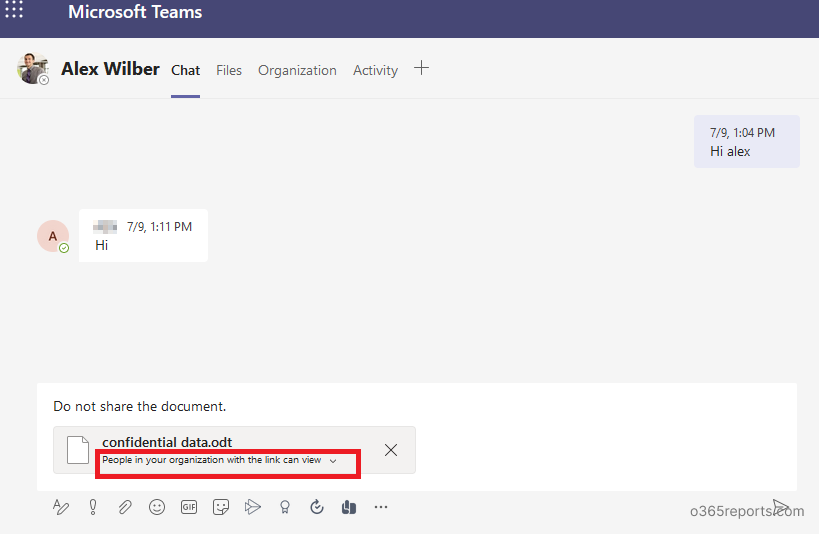 How to Share Files with People in the Chat Alone? 
As an admin, you can control how the files should be shared in Microsoft Teams. Also, you can change the default option from 'People in your organization' to 'Only people in this chat'. So, users are not required to change it for every file sharing.  
To make 'Only people in this chat' a default option, you can follow the below steps. 
Step 1: Go to SharePoint Online admin center. Then select 'Sharing' under 'Policies'. 
Step 2: In File and folder links, select Specific people (only the people user specifies) and save.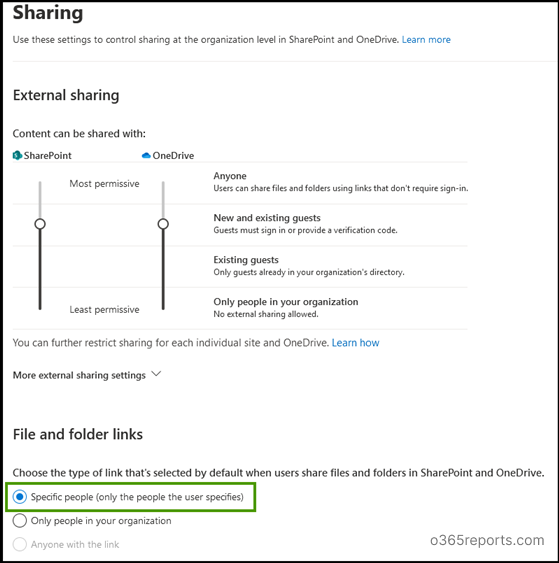 After configuring the above setting, when users share files in Teams, it is shared with 'Only people in that chat alone.' If people join the chat later, they need permission to access the file. Until permission is given, they can't access the file. Isn't it cool?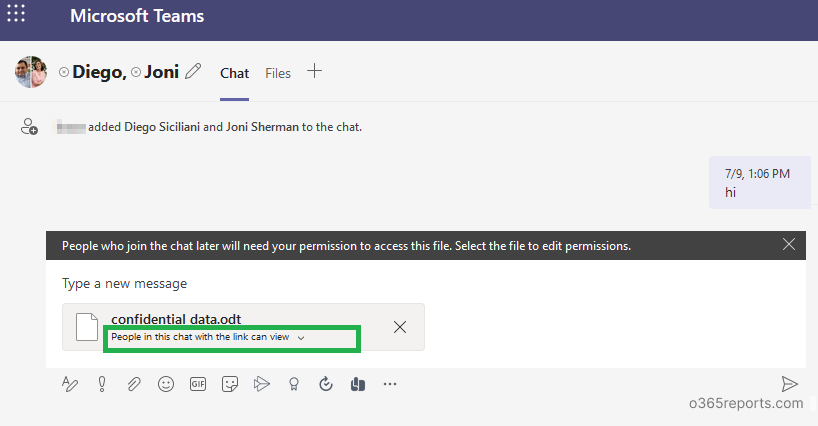 I hope this blog will help you review your file-sharing options and modify them to improve security. Happy sharing!