Microsoft Mesh for Teams Immersive Space and 3D Avatars Coming Soon to Public Preview
The modern world of work demands effective solutions for connecting a workforce that spans across the globe. According to Microsoft's Work Trend Index report, a staggering 43 percent of leaders acknowledge this as their most pressing issue. However, the surprising revelation is that over 50 percent of employees are open to using innovations like immersive space. In response to this, Microsoft recently unveiled its groundbreaking mixed-reality platform, Microsoft Mesh for Teams. 
Microsoft Mesh holds the promise of immersive 3D experiences and collaborative interactions, blurring the lines between the physical and digital worlds. 
In a significant announcement (MC677830) made on September 27th, Microsoft revealed that the public preview of Mesh with immersive spaces and 3D avatars is set to launch this October (2023). Now, let's delve into what users can anticipate experiencing when using the public preview of Microsoft Mesh for Teams. 
What is Microsoft Mesh for Teams?
Microsoft Mesh allows M365 users to create unique and immersive experiences, providing a new way to connect with people. It enhances Team interactions with features like 3D avatars and spatial audio, making communication more enjoyable and interesting in augmented reality. Microsoft's holoportation leverages cutting-edge AI technologies to offer a novel collaborative experience among users. 
Note: To use Microsoft Mesh, users should have a Teams Premium license. 
Immersive Spaces in Mesh for Teams Meetings
Microsoft has introduced an update for Mesh immersive experiences in Teams called immersive spaces. This has been in a private preview since October 2022. It offers a 3D virtual environment for MS Team members, accessible through both PCs and VR headsets. 
In these immersive spaces, Teams users can physically approach colleagues for conversations in the form of 3D avatars. Additionally, spatial audio technology enhances the audio experience, making it feel like an in-person conversation.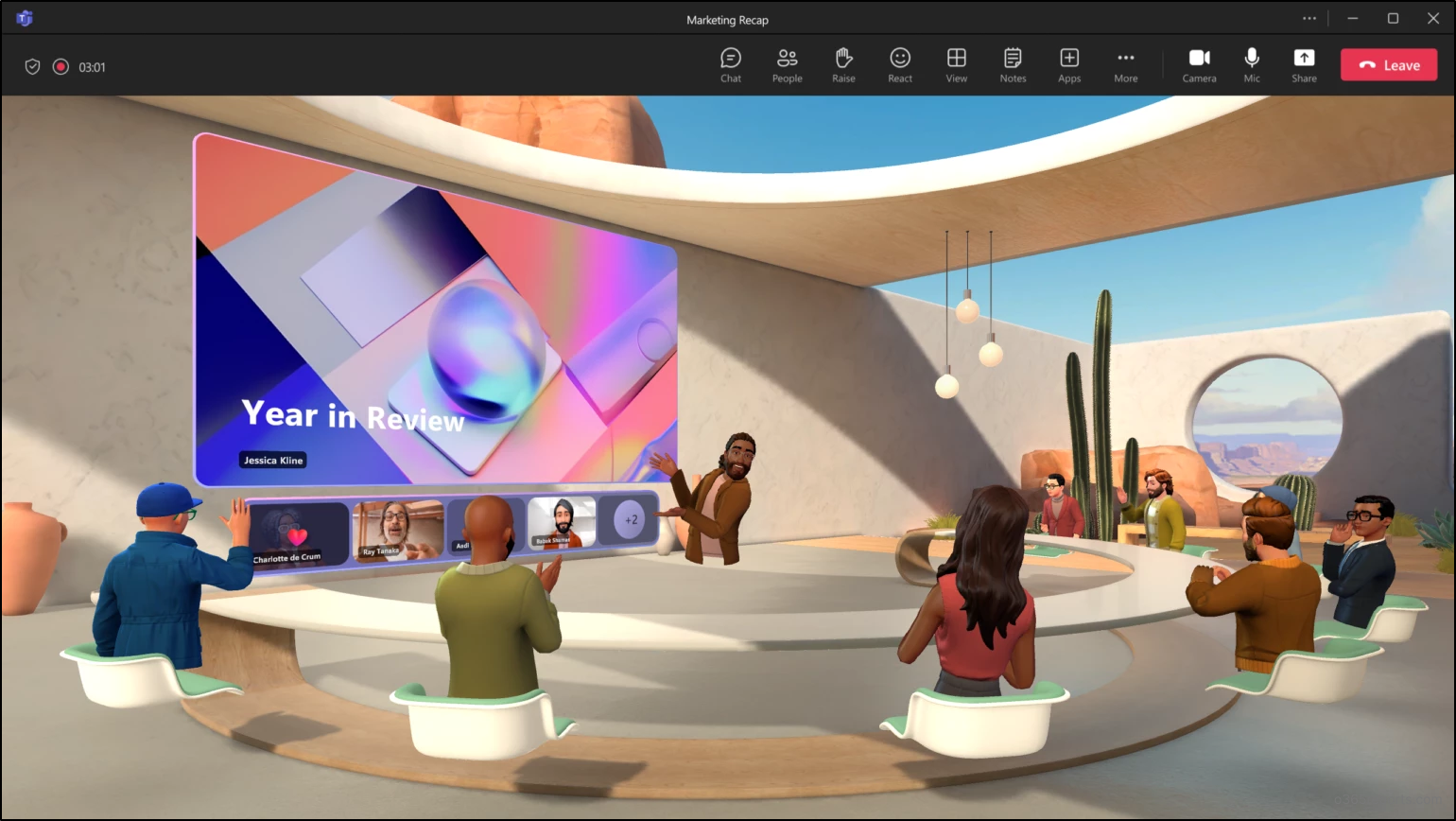 Requirements for the Microsoft Mesh Immersive Space
As mentioned earlier, Microsoft is set to release the Microsoft Mesh – immersive workspace in the upcoming weeks. 
To explore and experience the public preview of immersive spaces powered by Mesh in Microsoft Teams, ensure to have one of the following licenses: Teams Essentials, Microsoft 365 Business Basic, Microsoft 365 Business Standard, Microsoft 365 Business Premium, Microsoft 365 E3/E5, and Office 365 E1/E3/E5. 
Devices Compatible with Microsoft Mesh Immersive Spaces
Microsoft Mesh supports multi-device platforms aiming to provide users with the experience without encountering compatibility issues. 
It supports a range of devices from fully immersive head-mounted displays (HMDs) like Microsoft HoloLens, HP Reverb G2, or Oculus Quest 2 for a 3-dimensional volumetric experience. Additionally, for a 2D experience, users can connect from anywhere on fully tethered PCs and Macs. To enable this option and access immersive spaces on a PC, it requires a minimum of 4 cores and 8 GB RAM. 
Key Capabilities of Immersive Space in Microsoft Mesh
After enabling the Microsoft Mesh app in Teams, users with a Teams premium license can transform their team meetings into a 3-dimensional workspace. They can do this with the following navigation. 
Join a meeting → View → Immersive Space → Select the required immersive space → Apply
The 3D immersive space powered by Microsoft Mesh for Teams has the following key features: 
Impressive 3D environments: Ready-made 3D environments can be chosen that suit your meeting's purpose, whether it's a large team gathering or a small discussion. 
Customizable 3D avatars: Users can create customized 3D avatars to represent them as a physical person in the immersive space. The 2D avatars for Microsoft Teams can be converted into 3D and can be used in Microsoft Mesh virtual reality. 2D Mesh Avatars, a part of Microsoft Mesh can be used without the need for a Teams premium license. 
Live reaction with emojis: Users can react with themselves using emojis such as heart 💖, thumbs up 👍, clap 👏, and more. This adds an extra layer of interaction to your virtual meetings and events. 
Seating arrangements: Option to choose where users sit during a meeting or event to enhance connections with their colleagues. They can also switch between conversations freely. 
Fun-filled interactive activities: MS Teams users can participate in built-in games for team bonding within immersive spaces. From roasting virtual marshmallows to answering fun icebreaker questions, there are various interactive activities to enjoy. 
Spatial audio for effective communication: In an immersive workspace users can engage in multiple simultaneous conversations without interference. Spatial audio ensures clear communication in subgroups. 
Microsoft Mesh Custom Immersive Space
Mesh app users have the flexibility to design Microsoft Teams immersive spaces customized to their specific business requirements. This could include events for employees, training sessions, guided tours, or internal product showcases. 
Some of the customizations are: 
Event organizers can use the no-code editor (

Menu bar → Mesh editor

) to customize the immersive space with respect to their needs.

 

Event organizers can customize the space with the help of an environment editor by sharing images, videos, and screens in the 3D canvas space. After adding these objects, they can modify their size and position, or set the video to loop as needed to seamlessly integrate them into your event.

These customizations can be saved as a template, making them accessible for anyone in their organization to use. This enables users to host immersive company events, such as all-hands meetings,

email security best practices

, or new

M365 employee onboarding

sessions, that align with your business objectives.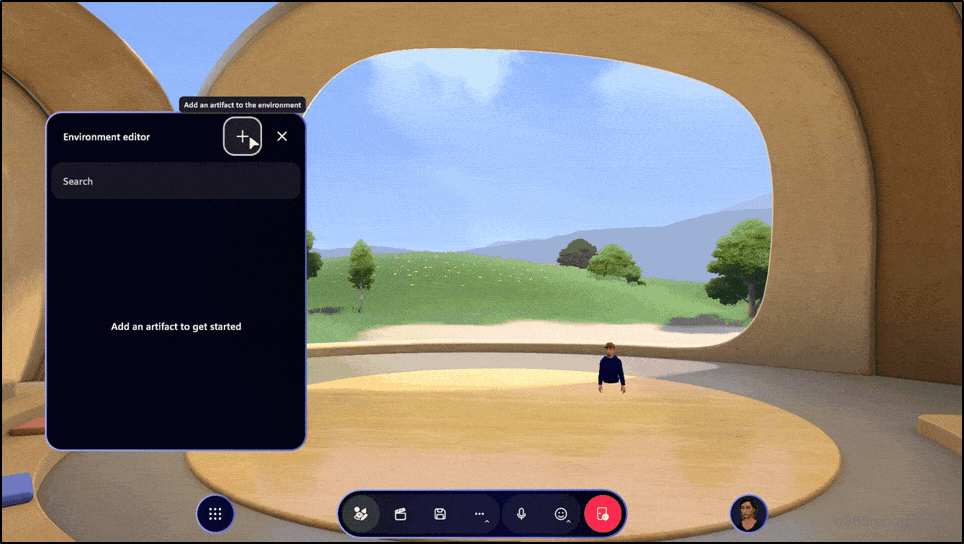 Unity: Fully Customized Immersive Space
To enhance such customization further, the Microsoft Mesh SDK named Unity enables event organizers/creators and developers to develop customized 3D experiences. 
Unity is recommended for its important features, such as, 
Experiencing virtual 3D interactions: Design interactions that feel incredibly lifelike and immersive, allowing you to grab objects or walk over to people, fostering human connections. 
Real-time data connections: Establish connections to both enterprise and public live data sources, crafting dynamic custom immersive spaces. Picture creating a control center featuring multiple visual dashboards with up-to-the-minute data. 
Enterprise-grade security: Deploy on Mesh, built upon Microsoft 365, ensuring top-tier security and privacy standards. 
Find and Participate in Events Across Mesh, Outlook, and Teams
Organizers have the option to either schedule an event using an existing template or craft a fresh one within Mesh. Once it's prepared, they can rehearse and make any necessary adjustments, ensuring everything is set for the main event. 
Moreover, attendees can seamlessly discover Mesh events directly within their Outlook and Teams calendars, eliminating the need to navigate to a separate location to view and join these events.
Limitations of Immersive Spaces in Microsoft Teams
The following is a list of current limitations of immersive spaces in Teams, as per Microsoft's announcement. 
This feature will be initially introduced in Teams 1.0 (classic Teams client) for a Public Preview phase. However, once it reaches General Availability, it will be accessible and supported in Teams 2.0 (

New Microsoft Teams client

).

 

For now, immersive spaces can host a maximum of 16 people. When it exceeds this limit, other meeting participants won't be able to join the immersive view. They can join the meeting with the standard view.

 

Immersive spaces currently do not offer support for PowerPoint Live. In such cases, the presenter using PowerPoint Live will receive a notification indicating that a meeting participant cannot view their content.

 
Frequently Asked Questions About Microsoft Mesh for Teams
Though we have covered the sliced-and-diced information about the public preview of Microsoft Mesh, you can get quick answers through this FAQ section.
1. Is Mesh for Teams available now?
Ans: Microsoft Mesh for Teams will be available for public preview from this October (2023).
2. Is Microsoft Mesh a metaverse?
Ans: Microsoft Mesh is a mixed-reality platform that enables immersive, collaborative experiences, but it's not a full metaverse. It focuses on enhancing virtual interactions and collaboration within organizations.
3. Why is Microsoft Mesh used?
Ans: Mesh is designed to enable collaborative and immersive mixed-reality experiences across various devices and virtual reality (VR) headsets
4. License requirements for Microsoft Mesh?
Ans: Users will need the Teams Premium license to use the immersive space in Microsoft Mesh. Additionally, any one of the below Teams licenses is required: Teams Essentials, Microsoft 365 Business Basic, Microsoft 365 Business Standard, Microsoft 365 Business Premium, Microsoft 365 E3/E5, or Office 365 E1/E3/E5.
5. Hardware requirements for Microsoft Mesh for Teams?
Ans: If you want to experience the Mesh functionality in 3D, you need a VR headset or HoloLens. For 2D experience on a PC, you must require a minimum of 4 cores and 8 GB RAM. 
Conclusion: 
Mesh for Microsoft Teams is set to redefine the way we collaborate in the digital age. By bringing users closer together in immersive 3D environments, it addresses the challenges posed by remote and hybrid work models, making virtual interactions feel more natural and engaging. As Mesh becomes more accessible, organizations of all sizes can look forward to a future of enhanced connectivity and collaboration. 
Embrace the Mesh revolution and explore the endless possibilities it offers for reimagining work, learning, and social interactions. Let's meet together in the 3D-connected immersive space.