3 New SharePoint Site Templates to Revamp Site Collaborations
Are you searching for the perfect SharePoint site template that efficiently organizes all your purchase orders, invoices, and other financial statements? Well, worth waiting for! SharePoint Online will be introducing 3 new SharePoint site templates (MC529412) to customize your SharePoint sites according to your organization and its payment needs. 
The upcoming new site templates will offer enhanced features and appearances for your SharePoint site users to collaborate better with their site members. 
Now, let's know the efficiency of newly launching site templates and explore how to incorporate them into your SharePoint Online. 
Are SharePoint Online Site Templates a Boon?
Yes, though! SharePoint site templates are exclusive pre-built site structures that can be used to design sites in the SharePoint Online site collections. Rather than starting from scratch, SharePoint site admins and site owners can use these handy templates to reduce the time consumption in site customizations. Team sites and communication sites have different site templates that are customized as per their names to meet specific requirements. Site admins can decide to tailor the desired site template based on their site needs. 
Introducing 3 New Site Templates in SharePoint Online
Admins use multiple site templates to customize their team sites as well as communication sites. As an added advantage, the upcoming site templates will help them to save time in creating custom templates and ensure their sites have a new look and feel. The 3 new SharePoint site templates are listed below based on the type of sites. 
For communication sites, 
For team sites, 
Microsoft Syntex-powered account payable template 
Note: These site templates will start to roll out at the end of March or early April and be available in mid-April 2023. 
'Organization Home Site Template' for Designing Your Landing Site
SharePoint Home site is a top-level site in the site collection that provides information in a consolidated view. Users can quickly find important assets using the home site.  
This new 'Organization home site template' allows you to get started easily with the basic SharePoint Online portal for your organizations.  
A dedicated site template that allows site visitors to quickly access conversations, news, videos, etc. They can also quickly get the latest updates in your organization from these templates.

 

Easy accessibility of popular links and important Office 365 resources will be made possible in this new template for your communication sites.

 
'New Brand Central Template' to Showcase Your Organization's Brand
Every organization has a unique brand identity that it presents to its employees, customers, and partners. With the help of a new 'Brand central template', employees can easily access organization's branding information in SharePoint Online. 
It will act as a central hub for all the latest brand assets. Users can access the provided organization's guidelines, understand company brand principles, etc.

 

Along with the above, they can see examples of brand expressions in action. Also, they can get help with related queries when communication sites have been created using this template.

 
'Microsoft Syntex Powered Account Payable Template' to Your Accounts Team
Microsoft Syntex is the Microsoft 365 service that uses AI and machine learning to perform various activities such as organizing content, optimizing search, automating business processes, etc. Syntex Team will be providing an 'Accounts payable template' with which team site users can learn how Syntex works from the scratch. 
This template will have a pre-built tutorial and designed models that help an accounts payable team get started with Microsoft Syntex.

 

Employees can process, track and manage the organization's purchase orders and store all info in the pre-configured document libraries.

 

In addition to the above benefits, this

template includes a pre-built invoice model

that automates data classifications and isolates the critical data from the invoices.

 
Thus, through these upcoming site templates, users will be able to organize files, folders, pages, and links effectively in SharePoint. 
Applying New SharePoint Site Templates to SharePoint Sites 
SharePoint site templates address the respective site needs with their pre-populated contents. These 3 new SharePoint templates can be applied for both new and existing SharePoint sites based on the site requirements. Let's see the steps for applying these site templates to SharePoint sites below. 
Apply a Site Template from Scratch:
You can directly create a new SharePoint site with a suitable site template that fulfills your business objectives. To create a site using a desired site template from scratch, follow the steps below. 
Create a

team or communication site

by providing relevant info such as the site's name, description, logo, privacy, etc.

 

After the site has been created, set the required permissions for a site.

 

Then, navigate to the site

Settings

from the top right corner of the site and select '

Apply a site template

'.

 

Browse SharePoint site templates in the template gallery and click the desired template in

From Microsoft

or

From your organization.



 

After selecting the appropriate template, click '

Use template

' once you explore the site capabilities. Then, the new site will get transformed as per the selected template.

 
Note: Since the site owner visits the site for the first time, they may automatically see the below message prompt that will ask them to browse and choose templates if required.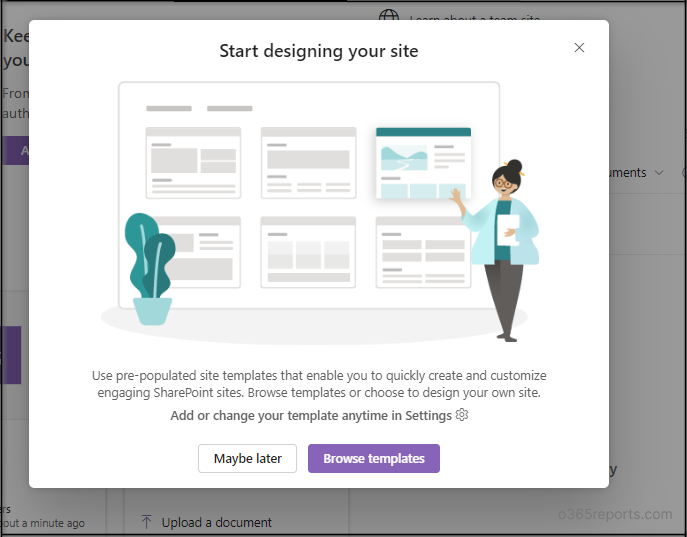 Apply a Site Template to an Existing SharePoint Site
:
You can also apply site templates to the existing SharePoint sites if you are not satisfied with the current appearance of the site collections. Follow the steps below to apply a site template to an existing SharePoint site. 
First, navigate to the existing site in SharePoint Online as a site owner or site admin.

 

Then, click the site

Settings

and select 'Apply a site template' from the template gallery.

 

Now, apply the required template from the list and click '

Use template

'.

 

Once done, wait for a few seconds to see a site with the desired look in your SharePoint Online.

 
Important: If you are applying site templates to existing sites, a new default home page will be created. Your content won't automatically merge with the newly transformed site. Instead, they will be stored and can be accessed on the Site Contents page. 
However, if you missed out on any SharePoint files on your new site, make sure to check whether the files have been accidentally deleted from the existing site before the transformation. 
Effectively Customize SharePoint Site Templates
Even though site templates are more efficient and reduce your work in designing sites, they do not completely fulfil your needs in some cases. So, you can customize sites at any time if you have successfully applied templates to new sites or existing sites. 
Now, navigate to the respective SharePoint site that you wish to customize.

 

Then, click the

Edit

icon located at the top right corner of the SharePoint site.

 

After enabling the edit mode, you can change the layout and contents on the page and select the

'Save as a draft'

or

'Republish'

button to reflect your changes in the site.

 
Last but not least, once the upcoming 3 new site templates are live, users will be able to browse, preview and apply those templates to SharePoint sites. However, it is necessary to know the right requirements for SharePoint site and choose the best template that suits you! 
Finally, I hope I have provided the required information on the new SharePoint site templates. So, follow the instructions if you are on the way to applying new templates to your sites and feeling new. 
Know the need and pick the right one that best fits the site goal!