Add Microsoft 365 Sensitivity Labels to Meeting Invites
New Preview feature Alert! 📢 It is already well known that Microsoft 365 sensitivity labels can be applied to email messages and files to ensure compliance with the organization's information protection policies. Now applying sensitivity labels is extended to meeting invites in Outlook as well. It can protect the sensitive information discussed during the Teams meetings. It is anticipated that the rollout of sensitivity labels for meeting invites and appointments in Outlook to general availability will begin in February 2023 and be completed by the end of the month. Let's check how sensitive labels on meeting invites work! 
Why Sensitivity Labels for Meeting Invites?

 
Microsoft 365 sensitivity labels in meeting invite users to classify the sensitivity of the information that will be discussed in the Teams meeting. This feature helps organizations to ensure that sensitive information is only shared with the appropriate individuals and that all team members are aware of the sensitivity being discussed. This can help to protect sensitive data and ensure compliance with data protection regulations. 
Pre-requisites for Applying Sensitivity Labels to Meeting Invites 
To apply a sensitivity label to a meeting invite in Outlook, ensure that you have the following requirements. 
Teams Premium license.

 

E5 subscription.

Outlook on the web, Outlook Win32, Outlook for Mac is supported.

 

Microsoft Information Protection

(MIP) in the MS Purview compliance portal must be signed in to use sensitivity labels in Outlook. 

 

You must

create a sensitivity label

with the necessary permission to apply them within your organization. 

 

It is necessary to publish the sensitivity label to meeting organizers and participants. 

 

While creating a sensitive label, you can enable the following settings to enhance security.

 
While creating a sensitive label, you can enable the following settings to enhance security. 
1.  Don't miss out to check in the Include meetings box while defining the scope of the label. You cannot apply a sensitivity label to a meeting if you don't include meeting options when creating the invite.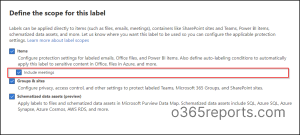 2. For better protection purposes, you can mark the available three options on the Choose protection settings for labeled items page. 
✅ Apply or remove encryption – This option will encrypt the meeting invites and responses that are labeled with the sensitivity label, adding an extra layer of security to sensitive information.
✅ Apply content marking – This option will add headers, footers, and watermarks to labeled meeting invites and responses, allowing users to quickly identify sensitive content.
✅ Protect Teams meetings and chats – This option will enforce Teams-specific settings for any Teams meetings that are labeled with the sensitivity label. (Requires Teams Premium License) For users without a premium license, this option is greyed out.  

How Encryption Settings for a Sensitivity Label Work on Meeting Invites?
 By using encryption setting on a sensitivity label, we can restrict access to the sensitive content. 
When an invite is encrypted, the recipients will need to decrypt it to access the meeting link. 

 

Meeting invites for any confidential projects can only be opened by the participants and cannot be forwarded to others. 

 

The meeting invite remains encrypted both at rest as well as in transit.

 
On the Encryption setting page, you will be allowed to configure the following settings. 
You can configure the necessary encryption settings or remove encryption from an already encrypted file.

 

Once you choose to configure encryption settings, admins can decide to assign permissions now or allow the users to assign permissions when the label is being applied.

 

Admins can specify when access to labeled content must expire.  

 

To balance security requirements, settings for offline access can be configured. 

 

Admins can grant permissions to specific users or groups to ensure that only those individuals can interact with the labeled content. 

 

For protecting your most sensitive documents, you can also choose to enable Double key encryption, if required.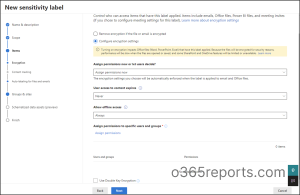 Sensitivity Protection Settings on Teams Meetings and Chats
It is important to note that any meeting option configured while creating a sensitivity label will get enforced. Applied meeting settings cannot be modified during a meeting. 
With a sensitivity label, you can apply the following meeting settings to ensure secure and controlled communication: 
Specify who can bypass the lobby, present, and record.

 

Enable encryption for meeting video and audio to protect sensitive information.

 

Enable automatic recording to capture the meeting for later reference.

 

Add a watermark to screen sharing and camera streams to identify the source of the content.

 

Prevent or allow chat and prevent or allow copying chat contents to the clipboard to maintain data privacy

.

 
How to Configure Sensitivity Protection Settings for Channel Meetings?
To apply label meeting options to channel settings, you must define protection settings for groups and sites. It is important to note that this association setting is available only when you edit an existing label.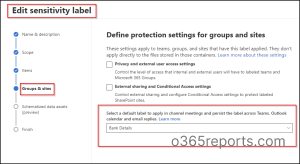 How to Apply

a

Sensitivity

Label to a Meeting Invite

in Outlook

?

 
Meeting organizers can apply sensitivity labels while creating a meeting invite from Outlook/Teams calendar. 
To apply a sensitivity label to a meeting invite in Microsoft Outlook: 
Open

Microsoft Outlook.

 

Go to the

Calendar

tab.

 

Click

New Meeting

to create a new meeting invite.

 

In the

Meeting

tab, click the

Sensitivity

drop-down.

 

Select the sensitivity label that you want to apply to the meeting invite.

 

Enter the required information for the meeting invite, such as the meeting subject, location, and attendees.

 

Click

Send

to send the meeting invite with the applied sensitivity label.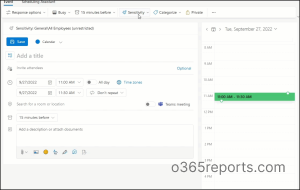 The content of the meeting invite, including the body and attachments, will be encrypted based on the applied sensitivity label. If meeting participants or organizers don't use a Teams client that meets these requirements, the configured label meeting options can't be enforced for these users. 
Limitations

of Using Sensitivity Labels in Meeting Invites
It is important to control the ability to copy content to protect sensitive information in meetings. But this option is not supported on all Teams on web browsers such as Firefox and Safari.

 

Labeling Teams meetings on iOS and Android devices are not supported yet.

 

Sensitivity labels are not supported for group calendar meeting invites. Participants must be specific users.

 

There is no support for applying and changing sensitivity labels for meetings in a shared mailbox calendar.

 

Sensitivity labels are supported only for Exchange Online mailboxes but not for on-premises mailboxes.

 

When setting up a meeting series in Outlook, the organizer has the option to apply a sensitivity label to the entire series. However, it is not currently possible to apply a sensitivity label to individual occurrences within the series.

 

If you receive a labeled and encrypted meeting invite on your mobile email client, the invite message will be decrypted inline if your client supports encrypted email.

 

Sensitivity labels can't be applied to Teams live events and webinars.

 

Labeling meeting invites with Graph APIs isn't supported.

 
I hope this blog provided you with a detailed understanding of extended sensitivity labeling for meeting invites. If you have any further questions, feel free to reach us in the comments section.