Start Teams Chat with Distribution Lists and Other Groups
In August 2022, Microsoft Teams rolled out an update that allows users to start a group chat with members of distribution lists and Mail-enabled security groups, in addition to Microsoft 365 groups. As of now, group chats are limited to 250 members, including guests. Microsoft intended this update mainly to improve workflow efficiency and to bridge the gap between legacy knowledge of the organizational structure and the new Teams structure. Currently, you can witness this feature in Teams desktop client after enabling Public Preview. This feature is expected to get a complete rollout by January 2023.  
Let's check it out! 
How to Start

an

Extended Teams Group Chat

with Distribution Groups /

Mail-enabled Security Groups?
You can start a new Teams group chat with distribution lists, mail-enabled security groups, or Office 365 groups just by specifying the group name or group email. Gain a better understanding by following the steps mentioned below.  
Step 1: You should enable Teams public preview in your Teams desktop client. 
Step 2: Select the new chat icon or press Ctrl +N.
Step 3: Enter the group's name or email address in the recipient bar.
Step 4: Select the specified group that you want to start a conversation with.  
Once the group is selected, the members and guests of the group are automatically included in the chat. You can also include the suggested members of any nested distribution lists if needed.  

Points to Ponder:

 
Currently, this feature is available only for Teams desktop clients.

 

Teams chat with dynamic distribution group is not yet supported.

 

Once the group gets initiated, you can't share chat history with the newly added members. 

 
S

tart a Group Chat Using Tags

 
Along with extended Teams group chat update, Microsoft will also allow users to start a group chat using tags. It's a known fact that Microsoft Teams lets users create tags to facilitate targeted communications. Tags can be used to categorize people based on roles, projects, locations, etc.
Creation of Tags:
Step 1: Click the eclipse next to the Team name.
Step 2: Choose Manage tags.
Step 3: Select the tag you need and add members. You may give a short description if required.
Step 4: Click Create.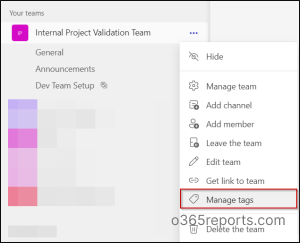 Once done, you can start a new chat by typing the tag you created. Selecting a tag will create a group chat with the tagged users as participants. Using this feature, admins can organize chats based on the roles such as content writer, sales team, etc. 
I hope you found this blog helpful in gaining info on the recent update that will aid in effective time management and better communication among team members. You can also check out Microsoft Team's recent updates on scheduling messages and updated search experience. Stay tuned for more updates! If you have any queries, feel free to reach us in the comments.