OneDrive for Business Files Restore
Announcing New Feature: OneDrive for Business Files Restore
Keeping our files safe and secure is always everyone's top priority.
There are some occasions where our files could be compromised due to accidental end-user deletion, file corruption, or malware infection. Until now the recovery process from such an event could take time and potentially result in data loss. But now it's not as Microsoft just announced Files Restore for OneDrive for Business.
Files Restore is a complete self-service recovery solution that allows administrators and end users to restore files from any point in time during the last 30 days. If a user suspects their files have been compromised, they can investigate file changes and allow content owners to go back in time to any second in the last 30 days.
Now users or administrators can rewind changes using activity data to find the exact moment to revert to.
To use Files Restore, all a user needs to do is choose Settings and then Restore OneDrive
OneDrive Settings Pane
Users are presented with a histogram showing file activity over the last 30 days with an intuitive slider to "rewind" those changes.
Files Restore Histogram
They can then easily select the file or files to restore from that point in time.
Files Restore Histogram
The user then is prompted with a date range as well as the number of files to restore. The user chooses to restore and the files are then restored back into the users OneDrive.
Files Restore Proceed
As you can see, Files Restore for OneDrive for Business can save time and stress when file loss occurs, putting end users in control.
This capability started rolling out from 22nd Jan to all OneDrive for Business users and will continue to roll out over the next few weeks.
More Links:
This article was originally published in Microsoft TechCommunity
You may also like these blogs: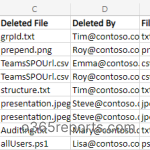 Audit File Deletion in SharePoint Online: Find Out Who Deleted Files…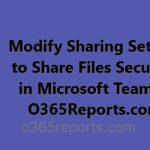 How to: Share Files Securely with Microsoft Teams