AdminDroid Office 365 Reports for Effective Microsoft 365 Management 
Managing Microsoft 365 can be a cumbersome task, especially when dealing with multiple admin portals and PowerShell modules. This challenge is further amplified when managing multiple Microsoft 365 tenants. Fret not! Get ready to revolutionize your Microsoft 365 management experience like never before. Introducing AdminDroid: the comprehensive Microsoft 365 management tool that simplifies the management process for Office 365 admins and Microsoft MSPs. With its rich capabilities, AdminDroid streamlines administrative tasks and enhances efficiency in monitoring Microsoft 365 environments. 
Generate, Schedule, and Export 1800+ Office 365 Reports 
When it comes to Microsoft 365 reporting, AdminDroid stands out by offering a wide range of report categories. With 1800+ pre-built reports at your fingertips, you gain unparalleled visibility into various aspects of your Microsoft 365 environment, including Azure AD, Exchange Online, SharePoint Online, MS Teams, OneDrive, Power BI, and more. 
Explore the report collection: https://admindroid.com/office-365-reports-collections 
AdminDroid Office 365 reports allow you to explore and utilize a diverse set of categories, empowering you to: 
And countless additional reporting possibilities

 
Get Complete Visibility Across Your M365 Organization:
Say goodbye to PowerShell scripts and gain comprehensive visibility of your Microsoft 365 environment with AdminDroid Office 365 reports. AdminDroid enables you to effortlessly access valuable insights on available licenses, users, groups, mailboxes, sites, teams, and more.
Using this tool, you can easily navigate and explore your organization's M365 data, empowering you to make informed decisions and effectively manage your Microsoft 365 environment.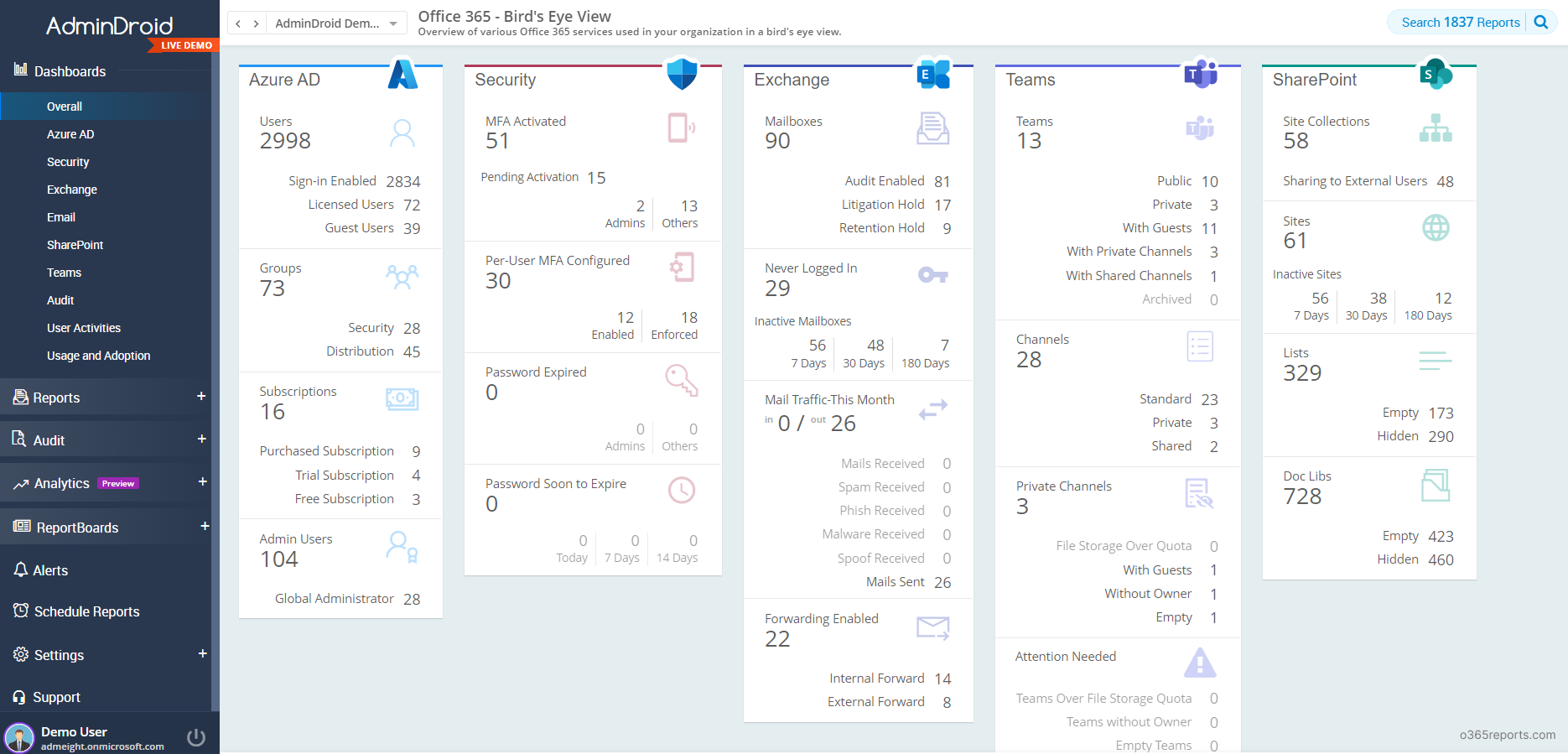 Stay Informed about All Microsoft 365 Activities:
Monitoring Microsoft 365 activities play a vital role in maintaining security and compliance in your organization. AdminDroid's Microsoft 365 auditing reports enable you to easily track and monitor activities across your organization, including: 
Organization users:

Gain insights into the actions performed by users within your organization.

 

Microsoft 365 administrators:

Keep a close watch on the activities of administrators managing your Microsoft 365 environment.

 

External users:

Track the activities of external users accessing your Microsoft 365 resources.

 
With AdminDroid, you can stay informed and maintain a comprehensive overview of all Microsoft 365 activities, fostering transparency and security within your organization. 
Optimize License Usage for Efficient Resource Allocation:
Effective license management is crucial for Microsoft 365 organizations. By eliminating unnecessary license subscriptions, organizations can control costs effectively. AdminDroid equips administrators with the insights needed to optimize license usage through its reports. Including, 
Identify inactive users:

Efficiently identify inactive users in your Microsoft 365 environment to reclaim licenses and reduce subscription costs.

 

Disabled users still holding licenses:

Detect disabled users holding active licenses to optimize license allocation and make sure proper resource utilization.

 

Determine unused licenses:

Identify and manage unused licenses within Microsoft 365 to optimize resource allocation and reduce unnecessary expenditures.

 

Find underutilized licenses:

Analyze user activities and collaboration patterns to identify underutilized licenses, enabling better license allocation.

 
With AdminDroid's Microsoft 365 license reports, organizations can effectively plan their license requirements, avoiding any last-minute license shortages or unnecessary license purchases. 
Identify and Address Security Gaps in M365 Configurations:
To protect your organization from potential compromises, reviewing security configurations is essential. AdminDroid offers comprehensive security reports that strengthen your organization's security posture by addressing various loopholes, including: 
Users or admins without MFA

: Identify accounts lacking the additional layer of authentication (MFA) for improved security.

 

Users with weak passwords

: Identify users with vulnerable passwords, allowing you to enforce stronger password policies.

 

External users' access permissions

: Gain visibility into the access permissions granted to external users, ensuring secure data sharing.

 

External sharing configurations

: Evaluate and manage external sharing settings to prevent unauthorized data exposure.

 
AdminDroid enables you to identify and address security gaps effectively, promoting a robust security framework for your Microsoft 365 environment. 
Detect Insider Threats and Safeguard Your Organization:
Monitoring insider threats in Office 365 is essential for protecting sensitive data, mitigating risks, and maintaining the overall security of your organization. AdminDroid helps you to: 
Identify sensitive data leakage:

Detect and track instances of sensitive data being leaked within your organization.

 

Detect potential malware senders:

Identify suspicious activities and potential sources of malware within your Microsoft 365 environment.

 

Monitor elevation of admin privileges:

Keep a close watch on the addition of new admins and role permission changes.

 

Track unusual file deletions:

Monitor and track any unusual or unauthorized deletions of files.

 
By leveraging AdminDroid's comprehensive insights, you can take prompt action against malicious or inadvertent activities to maintain the security and integrity of your organization's data and resources. 
Monitor External User Activities for Enhanced Security:
Monitoring external user activities helps identify any unauthorized or potentially malicious actions that could compromise data security. AdminDroid allows you to track  
External users in the organization:

Monitor external users who have access to your Microsoft 365 environment. This helps you maintain visibility and control over external user creation and deletions.

 

Recently created external users:

Identify suspicious user accounts promptly and take immediate action to mitigate risks.

 

File access and sharing activities:

Track external users' file access and sharing activities to prevent sensitive data exposure.

 

External users' group memberships:

Ensure appropriate access rights and authorized collaboration groups for external users, maintaining data segregation and preventing unauthorized access to confidential collaborations.

 
Overall, AdminDroid's external user reports empower admins with the necessary insights to effectively manage external users, mitigate risks, maintain compliance, and enhance overall security. 
Manage Microsoft 365 Storage Effectively:
Administrators can monitor storage usage, identify excessive consumption, and take proactive measures to optimize storage allocation, reduce costs, and establish efficient resource utilization. Here are some of the cloud storage reports provided by AdminDroid: 
Exchange Online mailbox size reports:

Monitor mailbox sizes, including size, item counts, and storage trends. 

 

SharePoint site storage reports:

Gain insights into storage consumption across SharePoint sites, including site size and daily usage of SharePoint storage.

 

Teams storage reports:

Track the storage used by teams, the percentage utilized, and identify teams that have exceeded their storage warning quota.

 

OneDrive storage reports:

Analyze storage used by users, the percentage used, etc., in OneDrive for Business.

 

Storage growth trend reports:

Track storage consumption growth over time and gain insights into storage usage patterns in the organization.

 
With AdminDroid's comprehensive storage analytics, you can gain detailed insights into storage consumption across Mailbox, SharePoint, OneDrive, and Teams. Leverage this information to make informed decisions, optimize storage allocation, and effectively manage storage growth. 
Get insights into Your Organizational Collaboration:
By monitoring collaborations, you can gain insights into how users collaborate, share information, and engage in teamwork across Microsoft 365 environment. Here are some of the collaboration reports that AdminDroid provides: 
SharePoint site usage report:

Gain insights into storage consumption and file activities to optimize site performance and resource allocation.

 

SharePoint external sharing report:

Monitor external sharing activities, including the number of external users, shared files, and sites, to improve security & compliance.

 

Microsoft Teams usage report

: Assess Teams adoption, track team creation, channel activities, chat messages, and team meetings to analyze collaborations.

 

Microsoft Teams guest user report:

Monitor guest user activities and access permissions to manage secure external collaboration within Teams.

 

Microsoft Teams device usage report:

Track device trends and identify potential security risks by monitoring the types of devices used to access Teams (desktops, mobile devices, and browsers).

 
With these reports, you can gain a deep understanding of application usage, resource utilization, and make informed decisions for cost optimization across Microsoft 365 applications such as Teams, SharePoint, and OneDrive. 
Meet Regulatory Compliance Demands:
Compliance is crucial for IT admins to ensure their organization meets regulatory requirements and prevents security breaches. AdminDroid offers 7 report packages, each containing 100+ reports, designed to simplify M365 compliance management. 
SOX compliance reports

 

HIPAA compliance reports

 

PCI-DSS compliance reports

 

GLBA compliance reports

 

GDPR compliance reports

 

FISMA compliance reports

 

CJIS compliance reports

 
With AdminDroid's comprehensive compliance reports, IT admins can efficiently manage and address compliance requirements, mitigating risks and ensuring the security and privacy of sensitive data. 
What Makes AdminDroid's Office 365 Reports Outstanding? 
AdminDroid's Microsoft 365 management tool offers a wealth of advanced features that go far beyond what meets the eye. Here's a glimpse of what awaits you: 
Extensive Report Collection: 
AdminDroid's Microsoft 365 reporting tool has become a go-to solution for countless admins due to its exceptional range of report collection, simplifying Microsoft 365 management like never before. 
These 1800+ ready-to-use reports cover essential aspects, such as Office 365 reporting, auditing, analytics, usage statistics, security, and compliance. 
To discover the full breadth of reports available, explore our comprehensive reports collection at AdminDroid Office 365 Reports Collection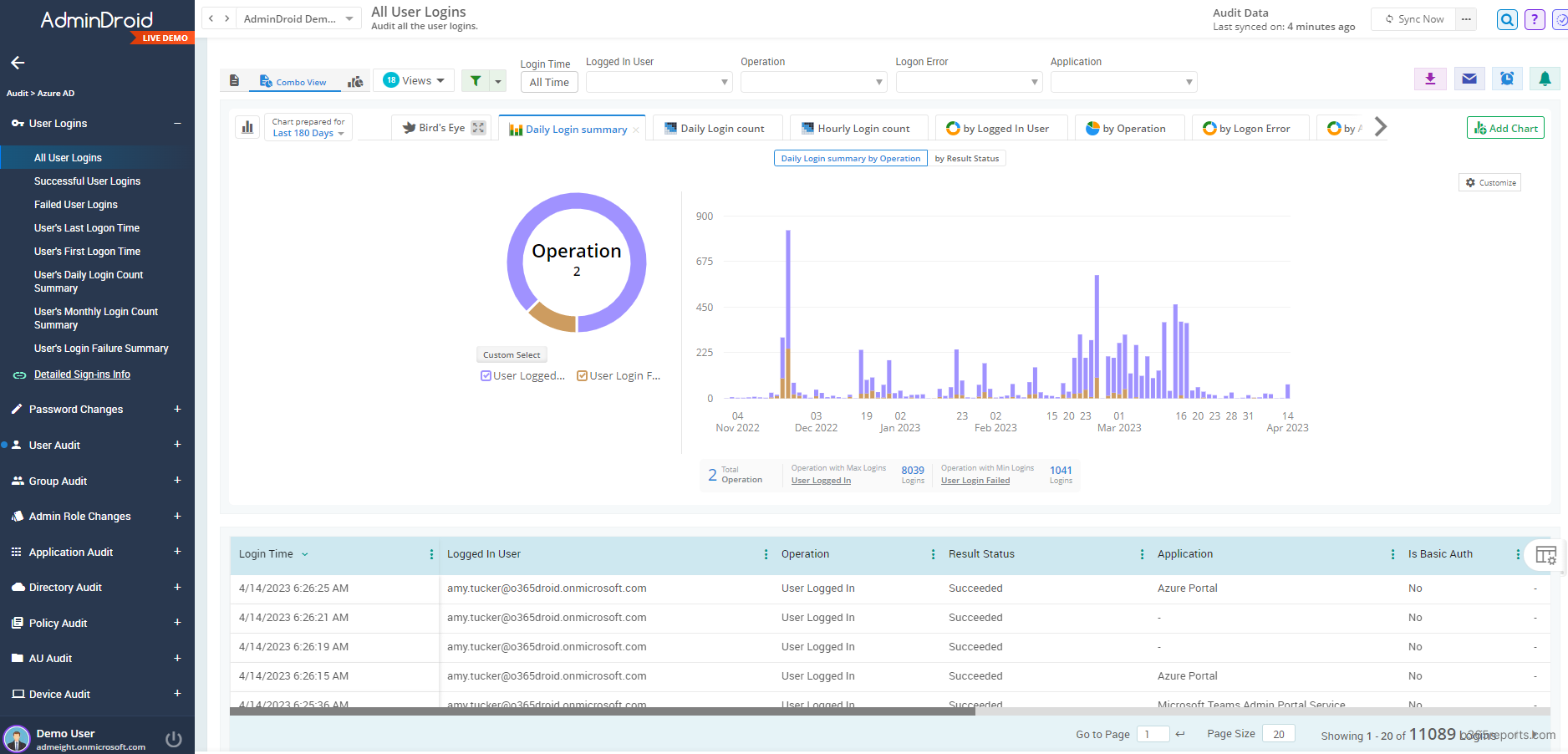 Graphical Representation and Customization: 
Each report's data can be visually represented using AI charts, enabling admins to easily interpret and analyze complex data. Furthermore, the tool allows users to create new graphs and charts tailored to their specific needs.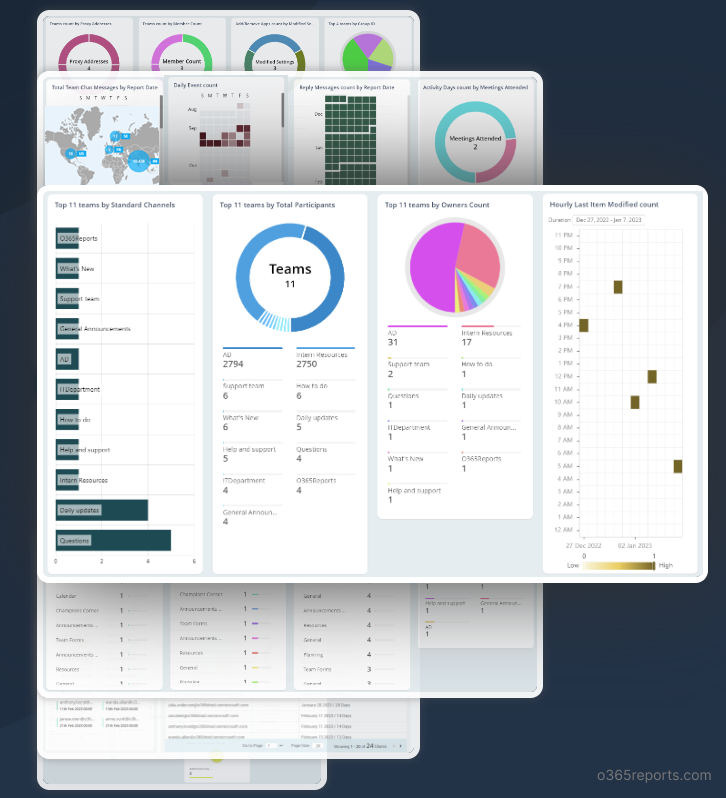 Smart Microsoft 365 Dashboards:
AdminDroid provides 30+ stunning dashboards that offer consolidated and visually appealing views of key metrics. These dashboards enable administrators to monitor, analyze, and take informed actions to effectively manage their Microsoft 365 environment. 
Explore AdminDroid's Microsoft 365 dashboards to know their richness. 

Rich Filters:
All reports can be easily filtered according to your specific needs using the custom filter option. This powerful feature allows you to apply filters to any column, enabling you to narrow down the report results to the desired criteria.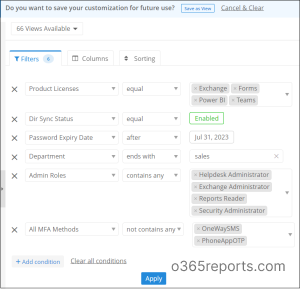 Advanced Alerting Capability: 
AdminDroid's Microsoft 365 alerting surprises admins with its advanced capabilities, including alerts on new events, unusual events, trend comparisons with past events, and email notifications for critical activities within the Microsoft 365 environment. AdminDroid identifies new risks and unusual activities through 1400+ Microsoft 365 activities. It helps to stay on top of important events and take proactive action.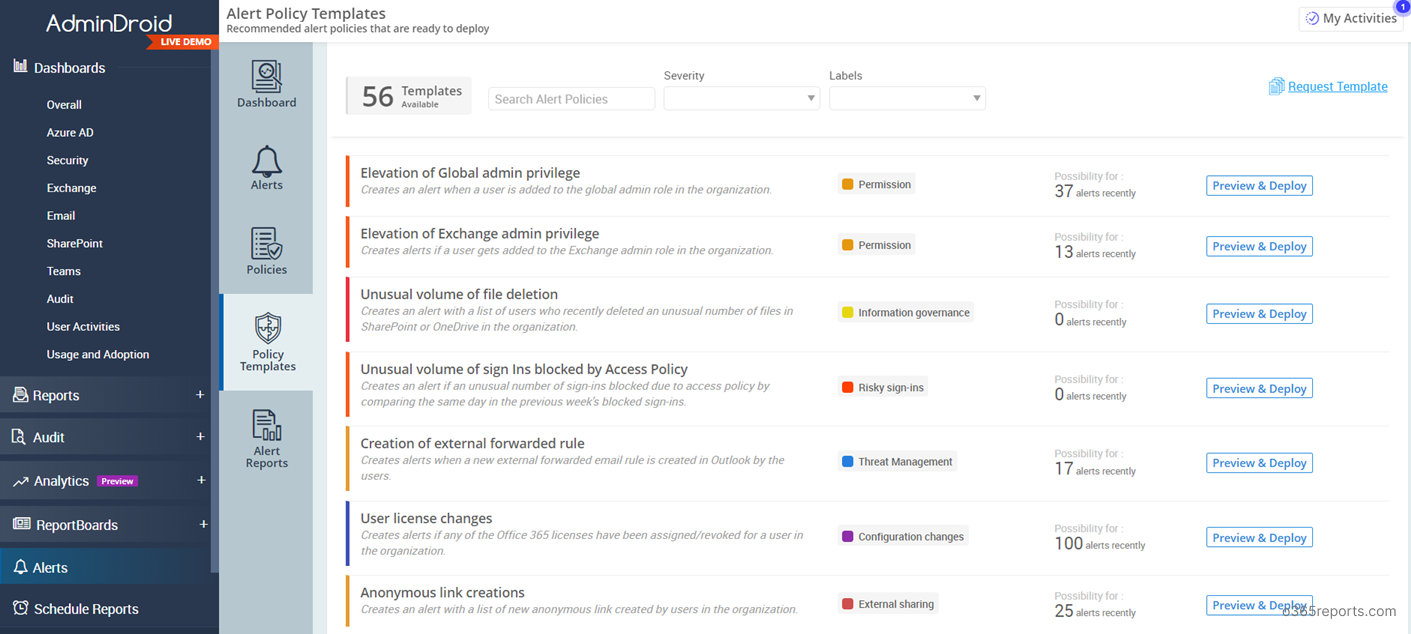 Role-Based Access Delegation: 
With AdminDroid's M365 role-based delegation, admins can assign appropriate access levels to users and manage access controls effortlessly. Additionally, admins have the flexibility to delegate specific reports, dashboards, and objects like users and groups. This fine-grained control allows for limiting access to specific resources, ensuring data security while minimizing Microsoft 365 administrative burden.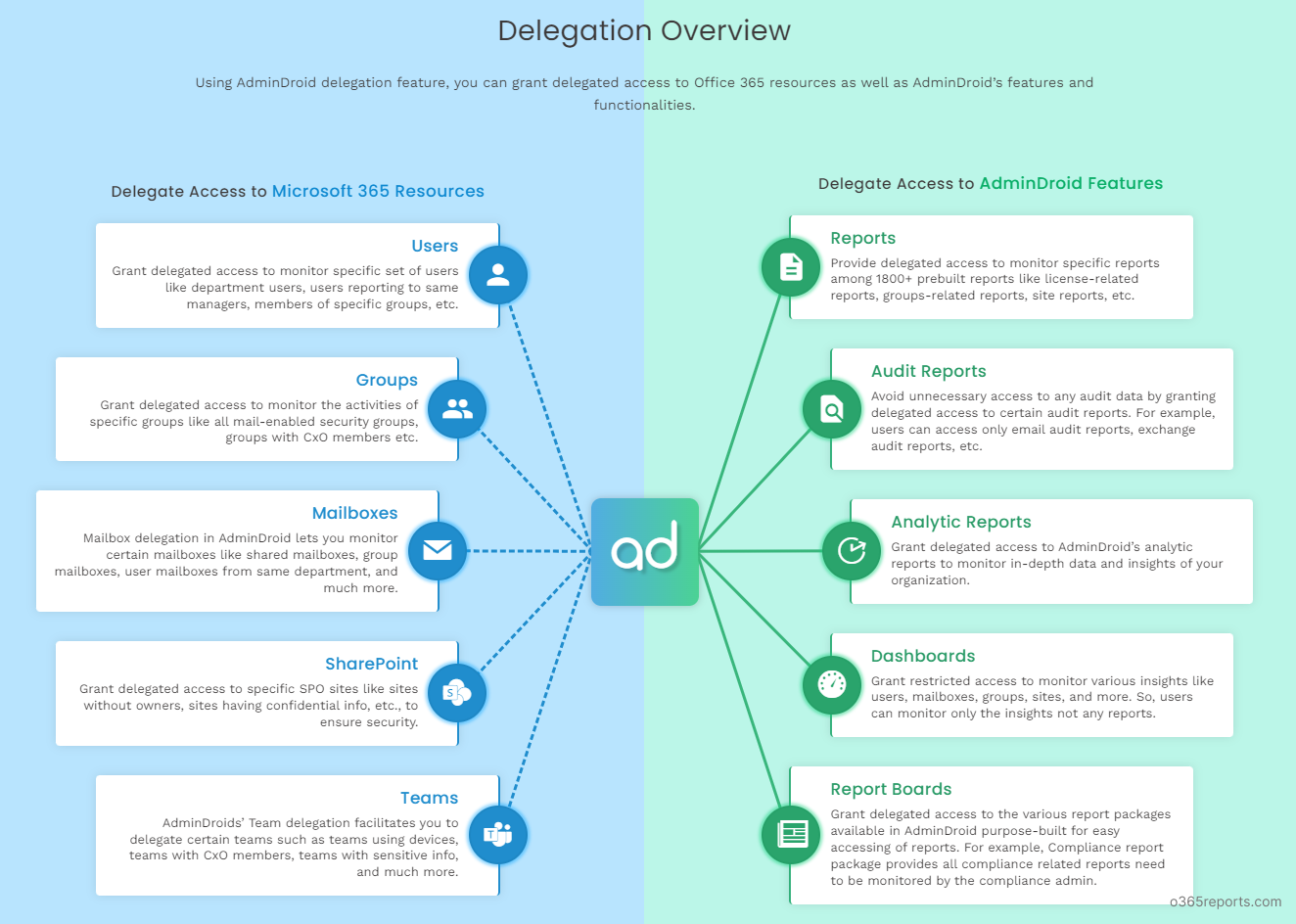 Intelligent Report Scheduling: 
AdminDroid streamlines your reporting experience, saving time and providing relevant insights directly to your inbox. You can benefit from features such as scheduling with filters, intelligent filtering, and customizable subscriptions, allowing you to stay informed and receive timely updates without manual effort. 
Out-of-the-Box Analytics: 
AdminDroid's Office 365 reporting tool goes beyond basic reporting, offering a suite of out-of-the-box analytics reports. It provides clear and concise stats to easily identify resource usage, app usage, device usage, users' inactivity, etc. Gain valuable insights into your M365 organization, enabling informed decision-making and optimization. 
120+ Free Microsoft 365 Reports:
AdminDroid offers 120+ free reports and dashboards covering various aspects of your Microsoft 365 environment. These reports cover Users, Licenses, Groups, Group Members, Devices, Login Activities, Password Changes, License Changes, and more. What's more, the free edition of AdminDroid doesn't impose any restrictions on reporting functionalities, allowing you to fully customize, schedule, and export reports without any limitations. 
But wait, there's more! AdminDroid's capability goes far beyond these highlights, encompassing a wide range of functionalities meticulously designed to simplify and enhance your Microsoft 365 management experience. 
To truly experience the power of AdminDroid, we invite you to download the AdminDroid Microsoft 365 management tool. Discover its comprehensive capabilities firsthand and unlock a new level of efficiency and insights for your organization's Microsoft 365 environment. 
Streamline your Microsoft 365 management processes with AdminDroid Office 365 reports – Download now and experience the difference.