Add Q&A Functionality in Microsoft Teams Meetings
As we all know, the Covid pandemic forced a global shift toward remote work, letting MS Teams grow meteorically. Over time, as users evolved alongside that growth, Microsoft started releasing a bunch of new updates and features.  In that order, to facilitate structured question and answer(Q&A) sessions during large Teams meetings and Teams webinars an app was developed for Q&A. To add further enhancement from September 2022, Microsoft integrated Q&A directly in Teams meetings as general availability.  
Here are some things you need to know about Q&A functionality in Microsoft Teams Meeting. 
Who can Enable

Q&A in Teams Meeting

s

?

 
Q&A allows presenters to take questions and answer them in real time, making it the perfect format for large, structured meetings like webinars and live events. Meeting Organizers and Co-Organizers can use meeting options to enable Q&A in Teams Meetings.  
Teams Q&A is enabled by default. i.e., any organizer can turn on Q&A for their meetings. If admins have the requirement to limit which organizers can turn on Q&A in large meetings, they can proceed with the following steps. 
Via Teams Admin Center:

 
Step 1: Open Teams admin center.
Step 2: Navigate to Meetings –> Meeting Policies.
Step 3: Add a new policy and give a suitable name & description.
Step 4: Scroll down to the Participants & Guests section.
Step 5: Disable Teams Q&A toggle and save.
Step 6: Select the policy and click Manage users –> Assign users.
Step 7: Add the users you wanted to limit.
Step 8: Click Apply. (Assignment will take some time to take effect)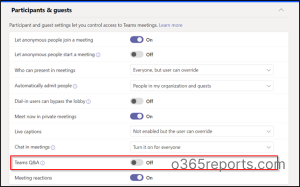 Via PowerShell: 
If admins want to allow every organizer to enable Q&A functionality in Teams meeting, run the following cmdlet. Before running the below cmdlets, you must connect to Microsoft Teams PowerShell. 
Set

-CsTeamsMeetingPolicy

-Identity

Global

-QnAEngagementMode

Enabled
As an admin, you can create a new Teams meeting policy that disables the Q&A feature. When this policy is assigned to organizers, they will not be able to enable the Q&A feature during meetings. 
To create a new policy to disable Q&A feature in meetings, follow the cmdlet mentioned below. 
Set

-CsTeamsMeetingPolicy

-Identity

<

PolicyName

>

-QnAEngagementMode

Disabled
To assign that policy to a user, run the following cmdlet. 
Grant-CsTeamsMeetingPolicy

-Identity

<

Organizer

id

>

-PolicyName

<

PolicyName

>
How to

Add

 Q&A in Teams Meetings?
Q&A functionality for Microsoft Temas can be turned on via two different ways.
Enabling Teams Q&A

via

Outlook:

 
Step 1: Open Outlook Desktop Version.
Step 2: Navigate to New Calendar event –> Meeting Options.
Step 3: Enable Q&A by selecting the Yes toggle.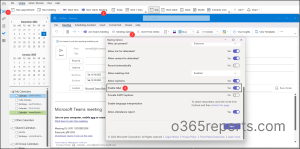 Turning on Q&A feature in Microsoft Teams:
Step 1: Open Microsoft Teams.
Step 2: During the meeting, select More actions at the top of the window. 
Step 3: Go to Meeting options.
Step 4: Enable Q&A by selecting the Yes toggle.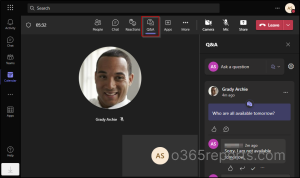 Role of Organizers and Co-Organizers in Q&A Teams Meeting

 
Learn the Q&A functionality privileges of moderators in MS Teams Meetings.  
Can manage the Q&A setting and enable moderation.

Can pin important messages like agenda, expectations, reminders, etc., in the Q&A feed.

Can delete any message from the feed in order to keep the conversation on track. Furthermore, they can close a question or discussion once it gets over.

Can choose if attendees can post and reply to questions anonymously.

 
Organizers can select the gear icon to manage Q&A setting.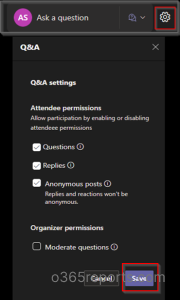 What is the Difference Between Moderated and Unmoderated Meeting

s

?

 
Unmoderated meeting – As soon as an attendee posts a question, it will appear immediately in the Q&A feed. 
Moderated meeting – When moderation is turned on, the Q&A thread will have three headings such as in review, published, and dismissed.  
Review – Whenever moderation is enabled, all new questions will appear under the In review tab. Publishing and dismissing the question is up to the moderators.
Published – Publishing the question will make it visible to all the attendees.
Dismissed – Questions that have been dismissed will be moved to the Dismissed tab and can be published later if required. 
Note – Once the moderation is turned on, you can't turn it off in between a meeting.   
Where does Teams Q&A Data get Stored?

 
Find the details of where the messages and files of MS Teams Q&A get stored. 
Messages –

Q&A messages created as a part of Teams meetings are stored in Yammer.

 

Files –

Files that got shared in Teams Q&A session are stored in SharePoint.

 
When you remove a Q&A in a meeting, participants no longer have access to the data. But it doesn't mean that meeting data stored in Yammer will get deleted. You can retrieve it back. You can also download Q&A report when the meet gets over.  
To download Q&A report, navigate to Teams Calendar –> Meeting invite –> Download Q&A report. 
Points to Remember:
Q&A must be enabled only through Teams meeting options. Previously, if you have used the Q&A app from the Teams app store, remove that app and use meeting options instead.

When you switch Q&A from the Teams app store to enabling via meeting options, existing data of questions, and comments, will continue to appear.

To allow users in your organization to add Q&A in Teams meetings, admins should make sure that sign-ins for the Yammer service are enabled in Azure Active Directory. 

 

As soon as a question is published in moderated meeting, everyone in the Teams meeting can view it, react, and respond.

 

Any guest user added to your MS Teams, SharePoint, or Azure AD can use Q&A.

 

Q&A content is searchable via eDiscovery and Advanced eDiscovery like any other Yammer content.

 
I hope this blog helps you understand how to use Q&A in Teams meetings. Feel free to reach us through comments if you have any queries.