Finding and Managing Microsoft Teams Without Owner 
Every team needs an owner to manage them properly. Generally, a user who created a team has the owner role. Then they can add new owners. The owner is responsible for   
Adding and removing members and guests,  

 

Modifying team's settings,  

 

Deleting private channel,

 

Archiving, deleting, or restoring teams, etc.  

 
So, a team must have the owner(s) function properly.  
What is Orphaned Team?  
When a team has no active owner, it is considered as an orphaned team or ownerless team. Orphaned teams are created in the following scenarios.  
When the only/last team owner left the organization 

 
When the team owners' sign-in blocked in Microsoft 365

 
How to Find 'Teams Without Owner'?  
You can use either Teams admin center or PowerShell to identify orphaned teams in your organization.   
Microsoft Teams admin center: Teams admin center indicates the orphaned teams by showing the owner count as 0 and an exclamation mark. For small enterprises, it is easy to pick out all the teams with no owners in the admin center. But, for larger organizations, it is not feasible as the admin center has no filtering options to list orphaned teams alone.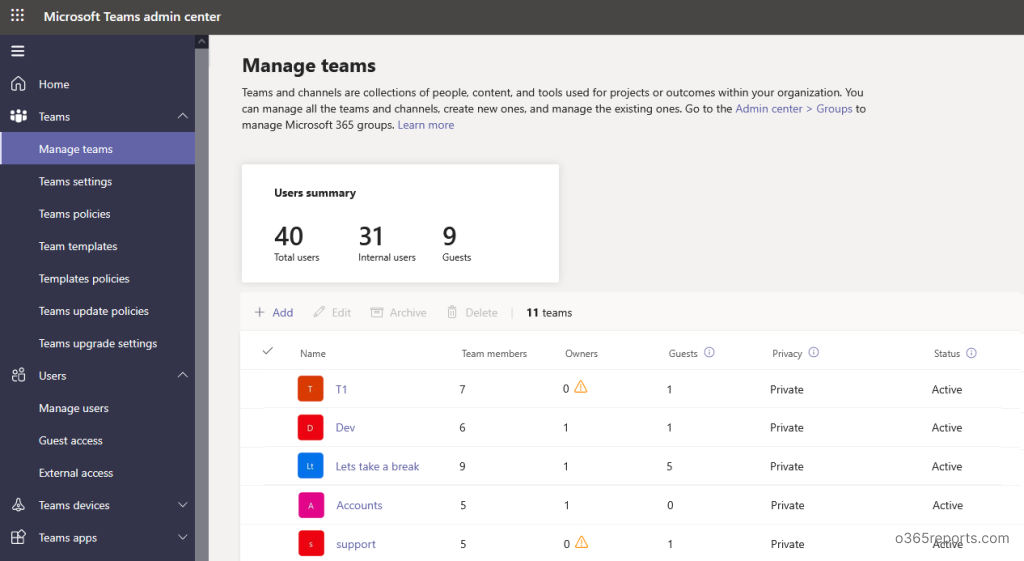 PowerShell: You can use the Get-TeamUser cmdlet to check whether the team has any owner. The cmdlet will list all the members and owners of a team.  
If you want to get a list of all the orphaned teams, you need to use both Get-Team and Get-TeamUser cmdlet, along with a few more filters. To easily get a report on orphaned teams, you can download the below script. 
Script Highlights: 
The script can be executed with 

MFA enabled account

 too.

 

Exports orphaned teams to 

CSV

 file

 

This script uses modern authentication to connect to Microsoft Teams PowerShell.

Automatically

 installs Microsoft Teams module 

(if not installed already) upon your confirmation.

 

The script is 

scheduler-friendly.

 I.e., Credential can be passed as a parameter instead of saving inside the script.

 
Microsoft Teams without Owner Report – Sample Output: 
The exported 'teams without owner report' contain the following attributes: Team Name, Description, Members Count, Guest Count, Teams Type, Archive Status, and Group Id. 

How to Execute the Script to Find Ownerless Teams:  
Method 1: You can use the below method to run the script with both MFA and non-MFA accounts.  
Method 2: To run a script non-interactively (I.e., Scheduler-friendly), you can use the below format.  
.

\

FindOrphanedTeams

.

ps1

-UserName

admin

@

contoso

.

com

-Password

XXX
You can also use the above format to schedule the PowerShell script in Windows Task Scheduler.  
Note: You cannot use MFA-enabled accounts in scheduling as it requires additional authentication. To use MFA accounts, you can disable MFA through the Conditional Access policy. 
How to Manage Ownerless Teams: 
As a Microsoft Teams admin, you need to find orphaned teams and take necessary actions for smooth collaboration. After generating 'Teams without owner report,' you can perform one of the below actions.  
Assign a new owner to the orphaned team 

 

Promote existing member to owner 

 
The Microsoft Teams admin center has the provision to assign a new owner to teams. If you are a PowerShell lover, here you go.  
You can use the Add-TeamUser cmdlet to add a new owner to a team or promote an existing member to the owner. For example,  
Add-TeamUser

–

GroupId

<

Teamid

>

-

User

<

UserIdentity

>

-Role

Owner
Here,   
GroupId – Identity of a team to which you wish to assign an owner.  
User – Identity of a user or existing member to whom you wish to assign an owner role.  
How do you manage orphaned teams in your organization? Share your techniques with fellow admins and us through the comment section.