Microsoft Deprecating Exchange E-discovery Tools by Introducing Office 365 Compliance E-discovery Features
In today's world, it is usual to move on to new features and technologies from the old one. On December 30, Microsoft has announced the deprecation of Office 365 eDiscovery tools. Now we need to get ready to move on from some of the legacy features to the new one. Everything we are going to lost has a better replacement. Likewise, though we are going to miss these legacy features, we have better replacements in the new one. Here, I list all the deprecating features and the new upcoming features in the Compliance eDiscovery. 
As per the announcement, they are going to deprecate the following tools. 
'In-place eDiscovery & Hold' 

in the Exchange Admin Center (EAC).

 

Office 365 Advanced eDiscovery

 v1

.

 

The Search-Mailbox cmdlet in PowerShell.

 
Time bound for the deprecation: 
From April 1, 2020, we can't create new searches and holds in In-place eDiscovery & Hold and can't create new Advanced eDiscovery v1.0 cases.

 

From July 1, 2020, all these Exchange features will be placed in read-only mode.

 
In-place eDiscovery & Hold in the Exchange Admin Center: 
In EAC, the In-place eDiscovery and Hold, have its priority among other features in all organizations. It helps to search the mailbox contents of all users. Now we need to migrate from Exchange Online eDiscovery and In-Place Hold to Core eDiscovery in Office 365 new Compliance center.
 
What are the features we are going to miss from this deprecation?
Copying search results to a Discovery mailbox:
In the In-place eDiscovery & Hold, we have the feature of copying the search results to a discovery mailbox.

 

Copying the results to the discovery mailbox helps us to store the search results for future review. Also, it increases 

the 

security

.

 

E

ven

 the global admin or Exchange admin 

can't

 

access 

this mailbox until the full access permission given to the users through Exchange Online PowerShell.

 

This discovery mailbox is visible only 

to the users

 who have the access permissions to it.

 

Also, 

no one can

 

send mails to the discovery mailbox.

 
Searching, exporting and holding data for legal purposes:
Using In-place eDiscovery & Hold, we can search the mailbox data and export it for future reference. Also, we can place Hold on mailboxes for legal investigations. 
Placing Hold for retention purposes:
Using In-place Hold in Exchange, we can place a hold in mailboxes for retaining data. Until the hold period, it prevents the permanent deletion of data. When searching the content, we can get these deleted data. 
Restoring items from the Recoverable Items folder:
The Recoverable Items folder contains data that gets permanently deleted (soft-deleted) from the mailboxes. We can restore the deleted items until the retention period expires. 
New features of eDiscovery in Compliance Center:
There are many new features available in the new Core eDiscovery. The following are some of the important features. 
In Core eDiscovery, we have the new feature of creating a case and 

can place 

multiple holds inside a single case.

 

We can assign users as managers for a single case to manage eDiscovery cases in the Compliance Center. The managers can able to access only the cases assigned to them.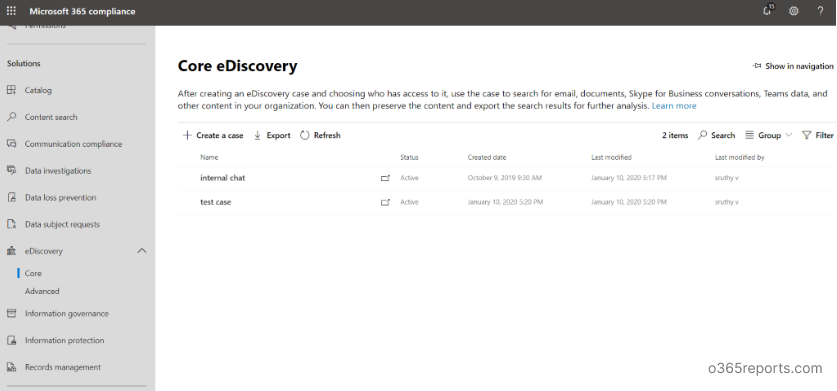 In addition to the mailboxes, we can also search SharePoint sites, OneDrive location, Microsoft Teams data using eDiscovery search, or Content search.

 

For future reference of the search results, we can use the eDiscovery PST export tool instead of the discovery mailbox. Then we should import the results to a discovery mailbox.

 

While searching using Content search, there are no limitations to the number of content locations.

 

In Content search, we can run multiple searches simultaneously, but we can run only 2 searches in In-place eDiscovery.

 

For filtering the search query few more filters are available in eDiscovery such as subject, Title, Author, File type, Last 

modified

, 

etc

.,

 
Office 365 Advanced eDiscovery v1: 
The Advanced eDiscovery feature is a part of E5 license and available as 

add-on

 for E1 and E3

. It is used for better analysis of data

.

 

While preparing results in Advanced eDiscovery, it uses a feature named Optical Character Recognition (OCR), which automatically extracts the text from images.

 

The latest version of Advanced eDiscovery serves the same functionality, which is more developed and easily manageable.

 

Office 365 Advanced eDiscovery license requirements:




For Users:

For analyzing the user's data using Advanced eDiscovery, users (custodians of the data) needs an Office 365 E5 license. Users with E1 or E3 license needs an Advanced eDiscovery standalone license.




For Admins:

Administrators and Compliance officers assigned to a case need not require an

E5 license for analyzing the user's data.

 
The Search-Mailbox cmdlet:

 
This cmdlet is used for searching mailboxes for in-place eDiscovery & Hold using Office 365 PowerShell. Microsoft is deprecating *-MailboxSearch cmdlets and introduces alternative cmdlets for this functionality. Try the alternate cmdlets for your eDiscovery needs. 
I hope this blog will help you to have a better understanding of new features of Core eDiscovery and its advantages. You can start using the Office 365 compliance eDiscovery features without t any further surfing. Try it out and comment on your experience in the comment section.