Microsoft 365 Reports Show Anonymous User Names instead of Actual User Names
The usage reports in the Office 365 admin center can be used to track Office 365 users' usage and activities across multiple services (Eg. Email, OneDrive, SharePoint, Teams, and Skype). We can analyse how well Office 365 is being used by users and helps you in planning additional training to make these tools more collaborative. 
Microsoft Makes Privacy Changes to Microsoft 365 Usage Analytics
(MC275344): Overview
The Microsoft 365 admin center includes reports that detail your organization's usage data. By default, the usage reports showed users, groups, and sites data as identifiable names. As of September 1, 2021, Microsoft hides the user information for the usage reports by default. This update on privacy settings enables organizations to comply with local privacy regulations. 
How Anonymous Data Enforcement Implementation Impact Your Organization?
According to Microsoft reporting, one or more users in your organization use or have access to Microsoft 365 reports in the admin center. When this change is implemented,  
Administrative and report reader roles will no longer be able to view user-identified information in reports.

 

Microsoft 365 usage reports in Microsoft Graph, Microsoft Teams analytics and reporting in the Teams Admin Center, and the reportRoot: getSharePointSiteUsageDetail API for SharePoint site detail (1.0 and beta) are impacted.

 
Manage the Settings to Show Identifiable User Names instead of Anonymous User Names:
To configure this setting, you must be a global administrator. Moreover, regardless of the setting, M365 users with global reader and usage summary reports reader roles will not have access to identifiable user information. 
In the 

Microsoft 365 admin center

, go to "Setting"

 

Go to "Org settings" and then select "Reports".

 

Deselect the "In all reports, display de-identified names for users, groups, and sites" option.

 

Sample Report After Formatting the Default Privacy Setting: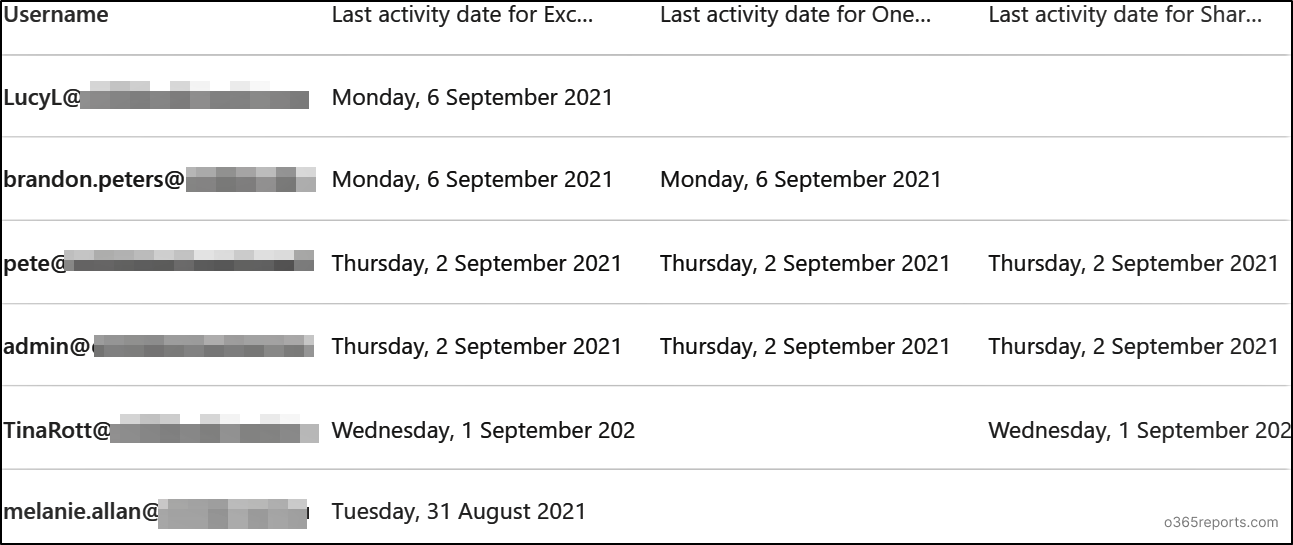 Will AdminDroid Reports be Affected by Privacy Changes to Microsoft 365 Usage Analytics?
AdminDroid Office 365 reporting tool provides 950+ unique reports. Microsoft 365 privacy changes affects only a few reports related to Microsoft 365 usage analytics. By modifying the settings in Microsoft 365 admin centre as described above, you can continue to see the display names of the affected objects in our reporting tool as usual. 
How to Audit the Privacy Setting Changes?
You can audit the privacy setting changes in the Microsoft 365 Compliance center. The activity "Updated usage report privacy settings" in the audit log can help you find the person who changed the privacy settings.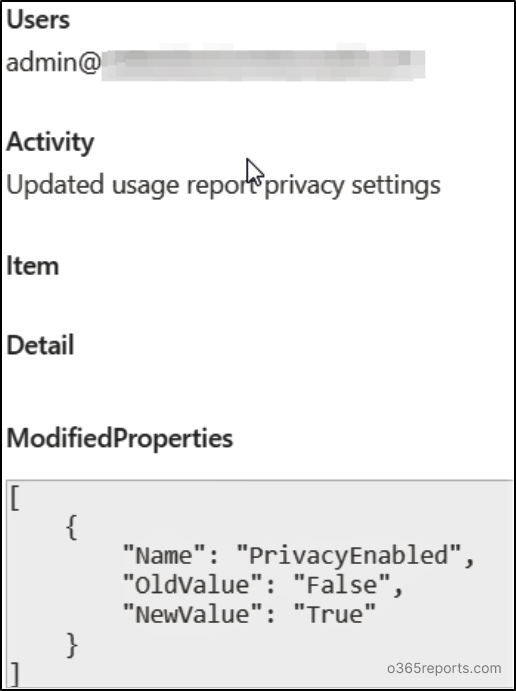 We hope, this article helps you understand the steps to get the actual user names quickly. Let us now in case of questions.