Office 365 Outage: Admins Unable to Onboard New Users to Exchange Online
Most admins reported that they are unable to onboard new users to Exchange Online service for the past two days. Specifically, the issue started on April 07, 2020, 12:30 PM (7:00 AM UTC).
Recently, Microsoft released a build for Exchange Online service, which introduced a code regression. Due to this, the Mailbox Replication Service (MRS) infrastructure crashed and resulted in an impact on user onboarding. The issue is not resolved yet.
Regarding this outage, Microsoft updated its status in Microsoft 365 admin center: Microsoft is working on the code fix to revert the code regression, and deployment of the fix will be initiated on Friday, April 10, 2020. Also, Microsoft will provide an estimated timeline for the deployment in the next update on Saturday, April 11, 2020, at 3.30 AM (4/10/2020, 10.00 PM UTC).
We hope this will be resolved soon and will update here of any progress.
Apr 11, 2020 Update: Microsoft has started deployment of code fix, and it has reached 75% of the affected environment. The issue will be fully resolved on Sunday, April 12, 2020.
Apr 13, 2020 Update: The deployment of the fix completed and the impact was remediated.
Details: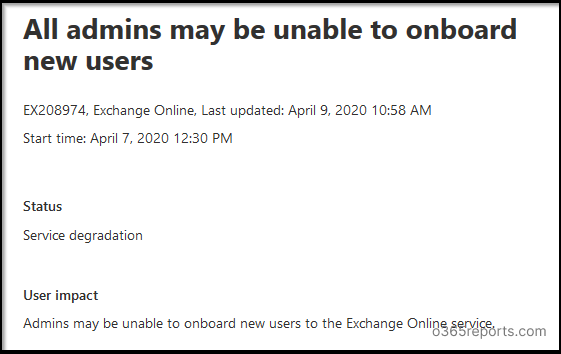 Title: All admins may be unable to onboard new users
ID: EX208974
Service: Exchange Online
Status: Service degradation
User Impact: Admins may be unable to onboard new users to the Exchange Online service.
Root Cause: A recent build release for the Exchange Online service introduced a code regression which causes crashes on Mailbox Replication Service (MRS) infrastructure, resulting in impact to user onboarding.
Start Time: April 7, 2020, at 7.00 AM UTC
End Time: April 12, 2020, at 11.00 PM UTC
Are you experiencing this outage in your organization? If so, please share with other admins and us about how you are handling this situation.